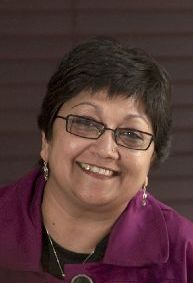 Rhodes > Latest News > 2013
Ujala leads Library and Information Association of South Africa
Date Released:
Mon, 5 November 2012 09:59 +0200
Rhodes University Director of Library Services, Ms Ujala Satgoor has been elected as the new president of theLibrary and Information Association of South Africa (LIASA) for the term 2012-2014.
"The need for libraries and librarians in South Africa at this stage has never been more important," said Ms Satgoor. "Being elected as president is a huge privilege and responsibility."
She believes that the position requires steering professionals into a particular mind-set, that as librarians we ultimately contribute to the development of an informed nation.
After serving as president-elect for two years, she assumed her role on 4 October. "As President-Elect you are 'groomed' to step into the position, but really it's about providing continuity in leadership," she said.
She added that the other elected portfolio holders on the national executive are a diverse group of librarians who represent themselves as well as their respective organisations.
"While we have consolidated and strengthened our credibility and platform we are now well positioned to take the lead on locating the profession within the broader socio-economic development agenda,"she said in her acceptance speech.
As LIASA president, she represents it nationally and internationally, including the National Council for Library and Information Services (NCLIS) and the International Federation of Libraries Association (IFLA), among other organisations.
LIASA was formed in 1997 and is celebrating its 15th anniversary this year. As a non-profit organisation with 1600 members, it is currently exploring statutory status, which will ensure standardisation of curriculum development and training of librarians, as well as professional registration.
Among LIASA's strategies are to provide dynamic leadership for the sector in terms of current trends and best practices, norms and standards as well as engaging with the political and economic issues impacting libraries and creating awareness of the role of libraries within the context of development in South Africa.
To this end, there is a strong focus on workplace skills development, up skilling and re-skilling people in the sector, which is made possible through substantial grants. These include a R10-million grant from the Carnegie Corporation of New York to provide scholarships for formal study to 110 graduates working in the public library sector in partnership with the library schools at the University of KwaZulu-Natal, University of Cape Town and the University of the Western Cape.
Rhodes University Library has benefited by being a member of the Carnegie-funded Research Libraries Consortium. Five librarians from the Rhodes Library travelled to the USA to participate in a training programme, which included being hosted by various leading universities; and two librarians attended the Executive Management Academy.
Ms Satgoor is the project director of the Carnegie Library Leadership Project which accepted four librarians from Rhodes University libraries (Main and Cory Libraries) to attend the 6th Library Leadership Academy.
She said training of this calibre, while broadening professional horizons, provides an excellent opportunity for younger librarians to involve themselves in the Association as well as take up regional leadership positions before aspiring for national leadership.
By Anna-Karien Otto
Source: