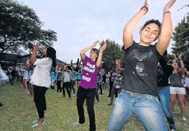 Rhodes > Latest News > 2013
United against rape scourge
Date Released:
Sat, 16 February 2013 13:59 +0200
Grahamstown folk join One Billion Rising protest
THE horrors of rape and gender violence came firmly under the spotlight in Grahamstown this week when hundreds of people showed their disapproval by dancing together one day and then wearing black the next.
On Thursday evening hundreds of women, dozens of men and even a few children rocked up at Rhodes University for the global One Billion Rising protest which saw people all over South Africa and the rest of the world getting together on Valentine's Day to protest increasing incidents of rape and violence.
Earlier in the day, hundreds of Diocesan School for Girls pupils danced to the international Break the Chain protest song that had been penned for the event while St Andrews College boys showed their solidarity by praying the prayer for men from the One Billion Rising website adding 800 more people to the global campaign.
The energetic jiving on Thursday was followed by a more sombre Black Friday yesterday which saw people all over South Africa dressing in black to show their support for rape awareness.
According to Black Friday statistics a person is raped every four minutes in South Africa. If that figure was not shocking enough, it was also claimed that a paltry 12% of all reported rape cases in South Africa ended in a successful conviction.
Rhodes University student services officer Larissa Klazinga – who organised the campus One Billion Rising gathering – said 582 people had signed up to dance, while many more just pitched up as word spread.
"I loved the idea of One Billion Rising when I first heard about it," there."
Klazinga said the worldwide protest dance kicked off in Micronesia and spread around the world to 204 other countries as the day unfolded.
"It is hard to estimate at this stage how many people have got involved but in India alone the numbers are in the millions."
She said it was wonderful seeing children as young as 10 months accompanied by their parents and 70 year-old plus grandparents getting together with students for the dance protest.
According to Klazinga every country and town in the world was affected by rape and gender violence with one in three women suffering this trauma in their lifetime.
"Unless this moves up the agenda and becomes a national and international priority I believe that it may in fact be the greatest crime against humanity ever perpetrated and it will continue unabated."
Local IT expert Andrew Grant, who attended One Billion Rising with his wife, 10-month-old son and his parents said three generations had come together to support a cause they all firmly believed in.
"Other protests of a similar nature have focused purely on the negative and have possibly deterred all but the regular die-hards from attending.
"I took home that relationships with others are to be treasured and enjoyed, but that certain boundaries are non-negotiable and must be respected." — davidm@dispatch.co.za
Caption: SOUNDS OF FURY: Anti-rape and gender violence protesters work up a sweat at Rhodes University on Thursday night
By David Macgregor
Source: Daily Dispatch
Source: