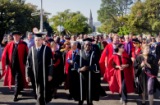 Rhodes > Latest News > 2013
Varsities protest gender violence
Date Released:
Wed, 22 May 2013 14:59 +0200
Lunch-time traffic ground to a halt in Grahamstown yesterday when 200 Rhodes University academics, staff and students took to the streets to protest against gender violence.
Led by university deputy vice-chancellors Dr Sizwe Mabizela and Dr Peter Clayton, the gowned academics worked up a visible sweat as they joined more sensibly dressed students – in shorts and Tshirts – in chants of "stop the violence" and "no to rape" as they marched up High Street.
The Grahamstown march came hot on the heels of three similar marches yesterday organised by Rhodes at the University of Fort Hare, Walter Sisulu University and Nelson Mandela Metropolitan University. Mabizela said the four universities had joined together to express their outrage at horrendous levels of brutal violence against women and girls.
"Gender-based violence is an affront to the values to which we subscribe and must fill us all with shame, offend our sensibilities and spur us on to action," he said.
Recalling high-profile rapes and murders that made headlines in South Africa this year, Mabizela pointed out that the City of Saints was not immune to the scourge. "Right here in our city, we were shaken by the brutal rape and savage murder of Thandiswa Qubuza."
Mabizela said it was time for law-abiding citizens to question what had become of us as South Africans and what had happened to our humanity."Violence against women and girls in our society must be eradicated. This must stop."
SRC president Sakh'usomeleze Badi said rape and gender violence had devastated South Africa's humanity, and that it was shocking that Interpol rated South Africa the "rape capital of the world" where a woman was raped every 17 seconds.
Photo by Robynne Peatfield
By: DAVID MACGREGOR
Source: Daily Dispatch
Source: