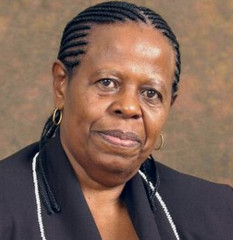 Rhodes > Latest News > 2013
WeedBuster project creates employment
Date Released:
Thu, 17 October 2013 09:15 +0200
Water and Environmental Affairs Deputy Minister Rejoice Mabudafhasi has commended the role played by the WeedBuster awareness campaign in job creation.
Mabudafhasi on Wednesday led the campaign in Grahamstown in the Eastern Cape, where she told residents that the programme has shown an immense value and return on investment for the country through job creation, training and skills development.
Since its inception in 1995, the programme has created the equivalent of more than 174 000 person years of employment, and created employment opportunities to an average of 26 000 people per year, with 54% of them being women.
The WeedBuster campaign is an initiative led by the Water and Environmental Affairs Department, which is supported by various partners and stakeholders. The South African campaign is linked to the invasive plant control initiatives by countries such as Australia and New Zealand, as well as to the broader Global Invasive Species Programme.
The WeedBuster initiative is part of the department's Working for Water Programme, which is the largest public-funded initiative aimed at managing invasive alien plants in the world. The programme seeks to control the problem of invasive alien species, and create work opportunities for previously unemployed people.
This morning, Mabudafhasi -- accompanied by Louise Asmal, the wife of the late and former Minister of Water and Forestry, Professor Kader Asmal, under whose watch the Working for Water Programme was initiated -- visited breeding ponds for biological control agents against water hyacinth at Rhodes University.
"Biological control is a crucial aspect of the fight against invasive alien species, introducing the natural enemies of invasive species, and this year South Africa celebrates 100 years of bio-control," Mabudafhasi said.
Article Source: SAnews.gov.za
Source:SAnews.gov.za