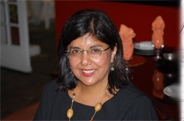 Rhodes > Latest News > 2013
"What's Wrong with Mandela Day?"
Date Released:
Thu, 27 September 2012 09:56 +0200
"We are at one of the most dangerous turning points in our democracy in South Africa," says award-winning South African journalist, author and Rhodes alumna Ms Zubeida Jaffer.
Ms Jaffer, who has 30 years' experience in journalism field, was at Rhodes University recently to present "What's Wrong with Mandela Day?" – a critique of the current limitations of day.
"Does our approach to Mandela Day currently not retard community building which is so vital to our nation? We are retarding the process by having people handing out things to communities.
Communities need to take ownership of their circumstances so that they aren't disempowered. You don't just want charity work – it's about people knowing they can take charge of their lives," she said.
"We all get very excited about Mandela Day and make some sort of a contribution," but what South Africa desperately needs is a shift from a short-term charity mind set to sustainable development approach. She added that there is too much at stake for an alternative to the current short-term approach not to be reconsidered.
According to Ms Jaffer, mining is the bedrock of the South African economy and the recent Marikana massacre "illustrates the fault lines that threaten to tear our democracy apart". Pervasive levels of inequality between rich and poor pose the biggest threat, she said, hence the need to encourage a sustainable developmental approach.
She explained that the current approach, which encourages individuals to dedicate 67 minutes to a worthy cause on the day in question, benefits those with resources but does not encourage any meaningful, sustainable community development.
Sharing her experience of covering the Rwandan genocide, she said she witnessed first-hand the power of community in rebuilding conflict-ridden areas through meaningful, grassroots community initiatives such as the mandatory monthly clean-ups that were organised by community members, known as Umuganda.
"I've never seen a country so clean. In the eight days I was there I saw one plastic bottle and three pieces of paper in Kigali. I'm sure there were more pieces of paper but the point is it was an idea taken up by communities and implemented at a local level and it was effective," she said.
Encouraging community mobilisation is crucial to empowering communities to realise their strength and potential, and Ms Jaffer spoke of the decline in social capital since 1994.
"It was strong ahead of 1994. After that we willingly handed over power to political leaders who we thought we could trust. Personally I was very relieved – it meant I could just think about my journalism. For four years we successfully demobilised ourselves," she said, adding that the country desperately needs competent, dignified leaders who are committed to fairness and service.
She made a plea to students to engage in a student movement across South Africa. "I do not hear your voices on the national stage. You need to define what is acceptable and show us what kind of leadership you want. I do not see you taking ownership of your future and leading by example. We are running out of steam and that's why I'm appealing to you," she said.
Ms Jaffer holds an MSc degree in journalism from Columbia University in New York. She is the author of many books including Our Generation, which was shortlisted for a number of major South African literary awards, Love in the Time of Treason. Since 1980, she has worked for the Rand Daily Mail, the Cape Times, Grassroots and has been part of the movement that gave birth to a number of community newspapers all over the country.
Post 1994, she was the founding editor of the parliamentary bureau for Independent Newspapers, the major chain of 14 newspapers and was tasked with forging the formerly whites-only press corps into a diverse team. She has also been an Honorary Research Associate at the University of Cape Town's Centre for African Studies and a fellow at UCT's Africa Gender Institute. She is a resident-writer at the University of the Free State.
By Sarah-Jane Bradfield
Picture source: Zubeida Jaffer's website
Source: