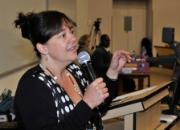 Rhodes > Latest News > 2013
"Why does the history of rape matter?"
Date Released:
Sat, 27 July 2013 13:00 +0200
Dr Catherine Burns of the Wits Institute for Social and Economic Research, emphasised that rape has been part of human life for a long time. She was addressing the Rhodes community on the fourth day of the Teach-In Lecture Series on Thursday, 25 July, at the Barratt Lecture Theatre.
In her lecture titled: "Why does the history of rape matter?", she strongly argued that socio-economic dynamics impact greatly on the cause of rape in different societies and outlined how and why the term 'rape' has changed throughout history both locally and globally.
She further argued that rape has often been about the control of fertility and there are differences between cultures in the ownership and value of the (re)productive female body. Males have also suffered rape as a way to attack their autonomy and integrity, as part of power displays and forms of torture and social control.
As in cultures from Europe and Asia, ancient Xhosa societies had a complex history of those in authority seizing power from others. In the Xhosa culture as well, however, the value of mutuality – often called Ubuntu – played a contrasting role, as one shares power with the next person.
"In history power has often been exercised in a limiting way over women. There is also a history of valuing intimacy and coming into a relationship through dignity, she said. "So there is a long history of rape but also there is a rich opposite of that, friendlies, and comradeship, in South Africa," added Dr Burns.
She said the we as a society also think abut the underlying history of rape as a form of seizure of self-power, and lits links to sexual crime more broadly, because in an age of condoms and sex without pro-creation, rape may still linked with lineage.
She said if one takes their autonomy through sex then they have gone the farthest in taking that person's freedom.
Dr Burns has taught in various countries and universities including the United States of America and the University of KwaZulu-Natal. She is currently completing a manuscript for a jointly authored book on the history of a major health institution in the region.
The lecture was a part of the 11th Annual Teach-In Public Lecture Series hosted by Rhodes University Political and International Studies Department.
By Andile Nayika
Source: