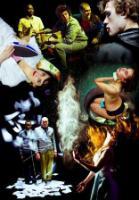 Rhodes > Latest News > 2013
Young Directors Season promises a month of fire
Date Released:
Wed, 29 August 2012 14:00 +0200
The Young Director Season kicks off at Rhodes University Drama Department Box Theatre on Wednesday 29 August. This year's season promises to make August, a "month of fire".
The Young Directors Season is the final exam for all Honours Drama students and consists of a 30 minute work of the Directors choice that is shown to the public and examiner. The season presents an annual programme of bold plays from the Rhodes University Honours Directing students.
This year, it hosts the talents of six fresh directors: Erin Cutts, Hannah Lax, Mellissa Pentz, Candace Gawler, Rosa Brandt and Bryce Woodiwiss. The directors are putting together an edgy line-up of works ranging from comedy to brooding realism and ensuring that each individual director articulates a unique voice and perspective.
Director of Traps, Rosa Brandt says, "It's a really amazing opportunity to work on something I am passionate about and I am looking forward to seeing the results, but at the same time it's a big deal and something I have been working towards for a long time."
Brandt is feeling nervous and excited at the same time and looking forward to a great show.
Hanna Lax director of Bread shares the same sentiments, "I'm very excited but also quite nervous as BREAD is a devised work meaning the piece has been created in collaboration with the cast."
"With devised work it always feels like you're producing something inherently personal, kind of like shedding a skin, so the stakes and personal investment is always much higher. However I'm really excited, the cast and I have worked extremely hard to produce something that I'm honestly very proud of," says Lax.
"Well the piece was conceptualised by me and so it's obviously quite personal. I worked heavily with the cast to develop characters and a narrative that we found intriguing, it was important to me to use the piece as lens or magnifier of that personal intrigue," she says.
"It is also my first major work that will be seen by a wider audience, so it obviously holds a lot of weight in that respect. I am hoping to develop the work further to be performed at Grahamstown National Arts Festival in 2013, so it's importance lies also in how it will form the basis on which a National première with be created," she adds.
The theme for this year's season is PLAY and each 2012 director has their own catch phrase that stems from the word play and represents their production: PLAY.house; PLAY.time; PLAY.dough; PLAY.border; PLAY.victim; PLAY.ma'china.
Source: