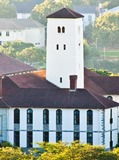 Rhodes > Latest News > 2013
Zuma's office takes steps to deal with Rhodes water crisis
Date Released:
Wed, 21 August 2013 08:59 +0200
Grahamstown's lengthy water shortage, which threatens to close Rhodes University, is at last receiving priority attention at the highest level.
State President Jacob Zuma's office yesterday confirmed they had "initiated a number of interventions" since last week to try and solve the problem.
Presidential spokesman Mac Maharaj said they acted as soon as they heard taps had run dry. The interventions began a day after Rhodes vice-chancellor Dr Saleem Badat led a high profile march to the Makana City Hall last Wednesday. He said campus was fast becoming a health risk and the university may have to close until the crisis was resolved.
Responding to Dispatch queries, Maharaj said their speedy intervention showed how serious they were.
"The record of the immediacy with which the presidency took up the matter, assisted the institutions to interact with each other and with the public, as well as contacted the complainant, indicate the seriousness with which the president of the Republic views such matters," he said.
Maharaj added that interventions included informing the Ministry of Water Affairs about the outage and contacting key Makana municipal officials and Rhodes leadership.
Water Affairs has sent a team to assist the municipality and the university to look at short and long-term solutions.
Water was finally restored, according to a campus e-mail by dean of students Dr Vivian de Klerk yesterday, at six residences that had been dry for two weeks.
By: David Macgregor
Article Source: The Daily Dispatch
Source: