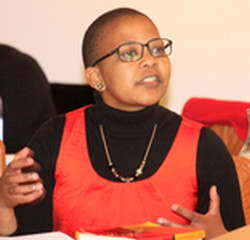 Rhodes > Latest News > 2014 Archive
Getting personal in International Relations Politics
Date Released:
Tue, 11 March 2014 14:59 +0200
The need to rethink international relations from a personal perspective was the focus of a paper presented by a lecturer at the Political and International Studies, Ms Siphokazi Magadla at a seminar hosted by the Department of Political and International Studies on Friday 7 March.
The title of her paper is "The personal is the international: For black girls who've considered politics when being strong isn't enough."
"This paper is really about going back to where I came from and in doing that I take lessons from the feminist tradition that says the personal is the political," she explained, saying that her paper aims to take it one step further into the international.
For Ms Magadla, locating something personally means looking not only at the history, but also at the historian. She thus situates herself as a black woman in South Africa and speaks very clearly from that perspective.
A central character in the narrative is her mother. She compares the position she finds herself in as a young, black, female academic to the life her mother led at a time when options for black women were extremely limited. "Now we see more and more an expansion of the choices that black people have, but particularly black women," she said.
She elaborated on the title of her paper by saying that she wished to criticise the idea of the strong, black woman making ends meet despite hardship. Her aim was to show that this idea subjected a group of women to misrecognition by a state that expected them to endure and not make claims based on what they might want.
In a way, however, her paper pays homage to the fact that many of these strong matriarchs have given the next generation of women the opportunity to make their decisions less bound by the obligation to be strong. "The reason I picked this title is really to recognise what sacrifices it has taken by those individuals," she said.
"In that first section I am saying that I can't think about being in this room without thinking about the legacy of my own mother."
The second part of Ms Magadla's presentation discussed how this personal background affects her thinking in relation to the international. She said that as more people join global conversations, it becomes increasingly difficult to distinguish what is international and what is political. "It is really quite difficult to run away from the international," she said.
That said, she says that the increased international voice has done little to change the norms that affect ordinary people in their daily lives. While we live in a relatively peaceful international system, many people still experience extreme insecurity due to domestic inequality, poverty, and conflict.
Foreign policy has done little to address this concern and she believes that we now need to be asking ourselves where dignity fits in to the international picture.
She argued that the field of international relations fails to be innovative, with thinking and teaching remaining stuck in a Western tradition. In her opinion, the conversation needs to be changed by taking the personal seriously. "The challenge is to start thinking from the context in which we find ourselves," she said.
By Kyla Hazell
Photo by Mathieu Dasnois
Source:Communications