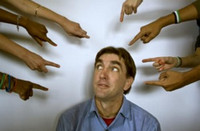 Rhodes > Latest News > 2014 Archive
Rhodes-Grocott's integration a new business model for newspapers?
Date Released:
Wed, 2 April 2014 16:59 +0200
Grocott's Mail, one of the oldest newspapers in the country, has moved out of its historic home close to Grahamstown's cathedral into Rhodes University's Journalism and Media Studies school in an integration that is seeing the newsroom become the training ground for journalism students.
As newspapers across the world wrestle with an ailing business model, partnerships like this are well worth examining. The newspaper business either has to find new ways to make the money to sustain its existing product or it has to change the product. Or it needs to look into forming partnerships with other institutions – which is happening in the US, where Rhodes looked for inspiration for this integration: the Columbia Missourian newspaper founded in 1908 that has become the digital-first newsroom of the Missouri School of Journalism.
Although Rhodes bought Grocott's in 2003, the partnership between the journalism school and the newspaper has been somewhat ad hoc till this new move this year.
Rod Amner, a journalism lecturer who teaches third and fourth-year students and who is now co-news editor in the Grocott's newsroom, told Grubstreet: "It was more of a case of us visiting a functioning newspaper where we were there more as coaching editors rather than editors managing the editorial processes… We never had the badge, if you like, and we hadn't really maximised this partnership."
Student participation was little more than a few photojournalists knocking around the newsroom while the design, new-media and broadcasting students were missing out.
For its part, and like all newspapers in South Africa, Grocott's has been struggling with declining ad revenue and circulation – now at just under 2 300 weekly (the university has always been determined that Grocott's should pay its own way and not be subsidised). It had less than 10 employees by the end of last year.
With the new injection of skills and knowledge from the department lecturers and energy from the students, the plan is to turn Grocott's into a digital-first operation that produces long-term civic-journalism projects.
University staff such as Amner are managing varies beats and areas, for example, writing lecturer Gill Rennie is the arts and culture editor and photojournalism lecturer Harold Gess is the pictures editor while staff from the Public Service Accountability Monitor (PSAM), which is part of the journalism department, are sharing their knowledge about making PAIA requests.
The amount of time students spend in the newsroom depends on their teachers. Amner is trying to do most of his teaching through the newsroom, with his students spending three days a week there with him doing either hard news or beat reporting on a rotation system.
Unusually, there is no title editor – which, says Amner, could be problematic going forward because it might mean the lack of a central vision for Grocott's. On the other hand, it encourages debate between the various editors and with the students and staff, which creates a learning environment.
"Rather than having one editor overseeing everything, it's about devolving power and responsibility for different things to different people and allowing them to really grow into that," says Amner, who visited the Missourian last year. (Its managing editor later came out to Rhodes to share experiences and ideas.)
"It's about partnerships and really reaching out (even beyond the journalism school) and becoming much more horizontal," Amner says. "It's a radical letting ago, which Grocott's wasn't too happy about but they are already seeing the benefit of it… All these kind of things are being worked out."
Of the integration generally, Amner says: "It's been quite difficult. Change is always quite hard. The people (at Grocott's) were quite worried about being swallowed up by the university."
Amner, who is editing the public-life beat with Grocott's Avuyile Diko and the PSAM's Thabani Mdlongwa, is aiming to implement a strong community engagement strategy with civic-journalism programmes.
Grocott's and the journalism department have partnered on this in the past.
"We've tried, yes, but not in a sustained way. We had this Journalism Democracy Development course where we got our third-year students to do different things in partnership with NGOs trying to cover things like health.
"And we tried to do it a way that helped plug into existing processes rather than doing it as a once off. So we built these partnerships over years. That was very good and we've done other experiments. But it's all been in a fairly ad-hoc fashion because we've been a little outside Grocott's. It wasn't really part of the editorial process and philosophy – and that's what we're trying to change and what makes it quite exciting: to plan this over a five-year period."
The university town of Grahamstown is fertile ground for civic journalism because of its relatively small size but Amner point out that there are also downsides.
"One of them is that the students tend to come from somewhere else (in the country) so are not familiar with the city and its issues. By about the time they are ready to leave, they're only just becoming aware of what's going on."
Another challenge in the push towards digital-first is that the print product still dominates the newsroom thinking and processes. "It's hard to break those habits and priorities," says Amner. "But then there are complex dynamics here because the print edition delivers most of the revenue."
One has to wonder if the newspaper has to be in the black if it's owned by the university and brings value because it is part of its teaching programme?
With the Missourian, for instance, the university subsidises the paper but this is partly because there is such fierce competition from rival newspapers in the city and the paper helps to further the journalism programme's pre-eminent reputation.
Amner points out that the coaching from university staff and student labour provided to Grocott's over the years means there is an existing investment. Whether Grocott's needs to make a profit is a fair question, he says.
A couple of months into the merger, Amner has this to say about how it's panning out: "The integration between Grocott's and the journalism school has been challenging and faces considerable further challenges. But it is also going better than could have reasonably been expected, given such wrenching change. My students are already enjoying their time at Grocott's and are, like me, cautiously optimistic about the year ahead… The learning has been immense."
Caption: Rod Amner as photographed by his photojourn students.
By Gill Moodie on April 2, 2014 in Intelligence
This piece was published first on Journalism.co.za, the website of Wits University's journalism school.
Source:Journalism.co.za