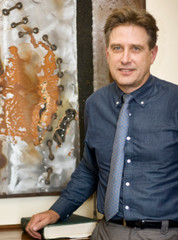 Rhodes > Latest News > 2014 Archive
Vigorous debate vital
Date Released:
Thu, 13 March 2014 12:10 +0200
UNISA'S third annual Research and Innovation Week in Pretoria last week saw high-ranking academics from several South African universities engage in a vigorous debate on the role of research and scholarship in higher education.
The main message was that the context in which research and scholarship take place is of the utmost importance. The first speaker on the panel was Dr Peter Clayton, deputy vice-chancellor of Research and Development at Rhodes University He posed the question: what was higher education's contract with society. He stressed that knowledge was the catch word - the discovery dissemination and improvement of knowledge.
At present the higher education system in South Africa emphasises quantity of research outputs, but there should be a way of rewarding quality as well. Clayton said the three pillars of scholarly pursuit - research, teaching and community engagement - had to work together and that one pillar was not more important than the others. He ended his presentation by giving researchers advice. His six ideas included the following: Get a PhD. It is a stamp of approval that will elevate you to become a thought leader. Use research to feed into teaching and community engagement.
Build critical mass by joining an existing area of research. Exploit collegial collaboration opportunities - over the long term it will build your reputation. Use digital repositories to get your research out there. Take a long-term rather than short-term approach to publishing - go for quality in the highest forum that you can. The second speaker of the day was Professor Lulama Makhubela, deputy vice-chancellor: Post-graduate Studies, Research & Innovation at the Tshwane University of Technology. She focused on policy issues pertaining to universities of technology and stressed that there were pockets of research excellence at these institutions.
Professor Adam Habib, vicechancellor and principal of the University of the University of the Witwatersrand, covered five issues pertaining to research and scholarship in higher education. An issue he raised was that all universities in South Africa were striving to be great research institutions, but universities should have different obligations and should diversify.
Habib's main message was that the context in which we operate is of the utmost importance. "To be really at the cutting edge of knowledge requires that we take context seriously" he said. He suggested that universities needed three things - good academics, who are given enough money and who are then left alone.
That does not mean that academics should not be accountable, but that they should be able to get on with the job of scholarship. Finally, Habib set the challenge for South Africa to create an environment in which excellent African academics who left the continent would return to do cutting-edge research. The final speaker was Deborah Posel, professor of sociology at the Institute of Humanities in Africa at the University of Cape Town.
Posel argued that the word 'innovation' was not one used in the field of humanities but that innovation was highly important because it meant an alteration to the existing order by introducing novelty of thought. She added that the humanities had a long history of posing big questions about the human condition. Big thinking was often downplayed because of the emphasis on national priorities and this did not necessarily feed into innovation. Unisa's Professor Mamokgethi Phakeng also spoke.
Article Source: CAPE TIMES
Source:Cape Times