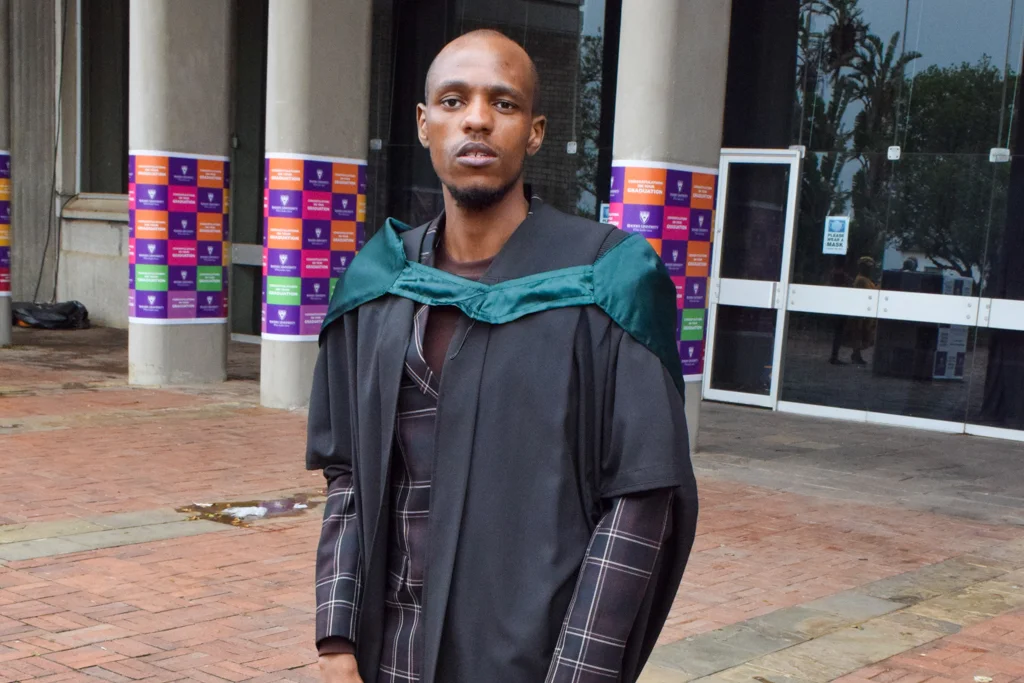 By Nwabisa Moyo
His love for science as a young boy has paid off for Mbulelo Jokazi, who recently graduated with a Master of Science degree at the Rhodes University October graduation ceremonies.
Jokazi grew up in Quzini village outside Qonce in the Eastern Cape. He is the sixth of eleven children. His family has been supportive of his academic journey since it began. His father has been his biggest cheerleader. "He is the foundation of our family and has been my motivation, my all-time hero," Jokazi said.
His love for science has been a part of him since his high-school days at Mbulelo Benekane Secondary School. "Everything I loved about science was from reading textbooks since we did not have enough resources like laboratory equipment," he explained. His journey at Rhodes University broadened his view of sciences, opening up a new world of scientific experiences. "Being exposed to microscopes and seeing the laboratory for the first time and just the science content from our lecturers made me want to get into science. So, I took chemistry and biochemistry as my majors during my undergrad," added Jokazi.
Jokazi's research focused on developing materials that can detect molecules used as pharmaceuticals and in the production of insecticides and pesticides. The toxicity of these molecules can ultimately result in the contamination of underground and surface water and, thus, affect the health of humans. Through his work, he developed methods to detect low levels of one of these molecules, known as hydrazine, before it can affect human health. His research is crucial to society as it was conducted to find a cheaper or easy solution to the current water crisis. He said he was inspired by the prediction that, within the next decade, South Africa would face its biggest water crisis.
"It feels great to complete this degree. It has been a bumpy road for me, especially during the pandemic. There was a time when we could not come to the lab to do research due to Covid restrictions, and that brought so much stress and delayed me a lot. I thank God, my supervisor, Distinguished Professor Tebello Nyokong, and everyone who helped me complete this degree," he said.
Jokazi is currently pursuing his PhD at Rhodes University, and he is ecstatic about this new path that he is on. "I am excited about this new chapter in my life. I know there will be challenges, but that's what research is about," he concluded.