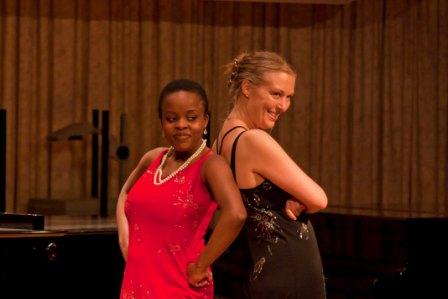 Last week's South African Society for Research in Music's (SASRIM) conference brought many well-known figures to Rhodes.
Durban-born composer Andile Khumalo took part in the Composers' Forum, held on the first day and chaired by Rhodes University's Dr Nishlyn Ramanna.
Khumalo is currently based at New York Columbia University and is a Faculty Fellow in composition. He obtained his Masters in Composition in Stuttgart (Germany) and attended master classes in Darmstadt (Germany), Fondation Royaumont (France), and Stuttgart with leading composers of our time such as Salvatore Sciarrino, Stefano Gervasoni, Brian Ferneyhough, and Isabel Mundry. His compositions have been performed all over the world, including at festivals such as the New Music Indaba in South Africa, the international Society of Contemporary Music in Hong Kong, and by ensembles such as the Sontonga String Quartet, Ensemble Mosaik, Ensemble Vortex and the Stuttgart Chamber Orchestra.
Composer Hans Huyssen joined Khumalo on the Composer's Forum. Currently affiliated with the Music Department of the University of the Free State as a non-resident artistic fellow and a PhD student at the University of Stellenbosch, Huyssen works within a wide range of musical fields ranging from early and contemporary European music to traditional African music. He is passionate about music education and holds a National Research Foundation (NRF) research rating for his body of work facilitating intercultural musical dialogues within the culturally heterogeneous South African context.
His compositions have been performed by numerous major European and South African orchestras and ensembles such as the Mozarteum Orchestra, Münchner Symphoniker, Deutsche Kammerphilharmonie Bremen, Münchener Kammerorchester, Dresdener Kreuzchor, Chamber Orchestra of South Africa, the Johannesburg and Cape Town Philharmonic Orchestras, the SA National Youth Orchestra, Ensemble Noir, Ensemble Uthingo, the Sontonga and Amici Quartets and others. Huyssen also presented a paper at the SASRIM conference, entitled Being Human and Being a Musician: New Music for a New Humanism.
Programme Co-ordinator for Jazz and Popular Music in the Department of Music at Tshwane University of Technology, Dr Chats Devroop presented a paper entitled Pirates of the Curriculum, a look at the apparent inability of local music to triumph over global corporatism. His research critically examines aspects of the current state of music at South African tertiary institutions and attempts to understand why state subsidised structures seem unable to meet the national and global challenges of the music industry.
Dr Devroop is the son of a band leader and saxophonist, and trained at the University of Durban-Westville (now UKZN). Upon receiving a DAAD scholarship in 1986, Dr Devroop studied at the Staatliche Hochschule fuer Musik in Karlsruhe and completed his Kuenstlerische Ausbildung in 1992. He has collaborated with several well known artists (Gerhard Braun, Shankar Ghosh, Sanjoy Bandopadhyay, Noel Stockton, Abdullah Ibrahim) and is well-known in both local and international music circles.
Christopher Ballantine, Professor of Music Emeritus at UKZ, is the author of Music and its Social Meanings (2006), Twentieth Century Symphony (1984), and Marabi Nights: Early South African Jazz and Vaudeville (1994). He presented a paper on Music, The Word, and the World: or the Banality of (South African) Classification, asking if music – and the study of music – is exempt from concerns surrounding the largely invisible and unconscious categorisations which permeate our society, and which fuel conflicts, especially in the case of categorisations such as "race", gender, class or nationality.
Pianist and composer Dr Ramanna is a lecturer at the Rhodes University Department of Music and Musicology, and is a specialist in academic jazz studies. During his B.Mus course in jazz at the University of Natal in Durban, he took piano lessons with jazz great Darius Brubeck and has worked with several other well-known South African jazz players in the course of his career, including Barney Rachabane and Johnny Fourie. A founder member of intercultural improvisation group Mosaic, Dr Ramanna composed many pieces for the quintet, which consisted of flute, piano, guitar, bass and tabla.
Dr Ramanna facilitated the Composers' Forum at the conference and was one of the musicians involved in the 'Free Jazz and other Improvisatory Practices' concert held last week Thursday night.
Story by Jeannie McKeowin
Photo by Adrian Frost
Source:
Please help us to raise funds so that we can give all our students a chance to access online teaching and learning. Covid-19 has disrupted our students' education. Don't let the digital divide put their future at risk. Visit www.ru.ac.za/rucoronavirusgateway to donate