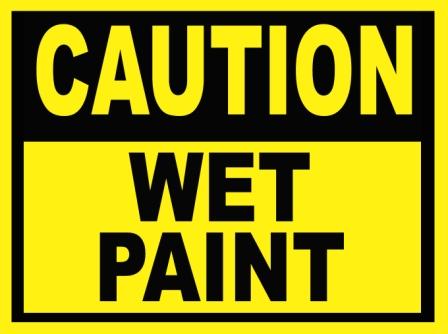 The Rhodes Department of Fine Art launched its National Arts Festival exhibitions last week at the Albany Museum, where the inaugural postgraduate exhibition is now open to public viewing.
Wet Paint, co-curated by Professor Dominic Thorburn, head of the Fine Arts department, and senior lecturer Maureen de Jager, is an innovative undertaking aimed at creating a space for the Masters in Fine Arts (MFA) students to showcase their work-in-progress. As the MFA is a two-year course, the Department of Fine Art hopes that this exhibition will become a regular feature of the National Arts Festival, and act as a mid-degree touchstone for the students.
Dotun Makun's striking portraits of his fellow expatriots, entitled International Passports: Nkem, Blessing, Tope made a statement against the back wall of the gallery. Makun is a member of the Fine Arts Department's Visual and Performing Arts of Africa (ViPAA) research group, and will be involved in the new Arts Lounge venture during the Festival.
An unusual series of digitally scanned images, by Cassandra Wilmot, presented four squares of lint, taken from four different wash cycles and enlarged to reveal numerous tiny threads, strands of hair, even feathers. The works repay careful attention on the part of the viewer, ably realising Wilmot's stated aim of illustrating that which is irredeemably, and possibly inadvertently, lost in our everyday lives.
A little further along the back wall of the gallery, Gerald Machona's photographs reveal his eye-catching use of defunct Zimbabwean dollars, which he uses to make masks and, through them, re-imagine the experience of migrant workers in the medium of performance art, which the photographs document. The use of masks references a Malawian traditional masquerade called Gule Wambulu, a Chewa rite which has been adopted for use by migrant workers to counter xenophobia. Machona is another member of the ViPAA research group under Professor Ruth Simbao.
Mark Wilby's multimedia installation drew a crowd, many of whom chuckled appreciatively throughout the video playing on a loop. However, it was Bronwen Salton's intriguing floor sculpture, created from crocheted black plastic bags, which drew the eye as the focal point of the Wet Paint exhibition. Salton asks the viewer to consider the damage we are inflicting on our planet. Inspired by the Transocean/BP oil spill, the largest ever, the numerous small crocheted pockets appear as a blasted coral reef, or as numerous small sea creatures, with blankly open mouths calling for help.
Among the academics attending the exhibitions were Professor Tebello Nyokong from the Department of Chemistry, Professor George Euvrard from Education and Deputy Vice-Chancellor Peter Clayton. Prof Thorburn thanked Maureen de Jager, Brent Meistre, Mark Wilby, Moira Japp, Ziyaad Jacobs, Jan Nel and John Walters for their assistance in creating both exhibitions. In addition he thanked the MFA students for their enthusiasm in embracing the concept of this new show.
Story by Jeannie Mckeowin
Source:
Please help us to raise funds so that we can give all our students a chance to access online teaching and learning. Covid-19 has disrupted our students' education. Don't let the digital divide put their future at risk. Visit www.ru.ac.za/rucoronavirusgateway to donate