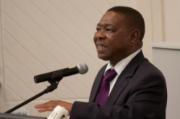 Academic freedom cannot be tackled in isolation from the immense development challenges facing South Africa.
This is according to the Minister of Higher Education and Training, Dr Blade Nzimande, who delivered the 2011 DCS Oosthuizen Academic Freedom Memorial Lecture at Rhodes University on Tuesday (11 October).
Dr Nzimande warned that if academic freedom was seen in isolation, it would relegate it to an "abstract debate among the still racialised and gendered elites, away from the burning issues facing the overwhelming majority of our people."
He said academic freedom, like freedom of any kind, was fragile, and people should be vigilant in defending it. However, threats to academic freedom from government had receded since 1994.
"Academics do still need to remain vigilant against the erosion of academic freedom by government. There will always be a tension, hopefully a healthy one, between freedom of academic enquiry on the one hand and, on the other hand, accountability to a society with a vibrant democracy but also in dire need of development and an end to poverty, unemployment and ignorance."
He warned that threats to academic freedom were now "far more subtle" than during apartheid and were increasingly coming from commercial interests rather than government. He questioned whether the increased funding from the private sector to universities had an effect on curricula or research agendas.
"Are universities more likely to do research aimed at benefiting the interests of private business rather than those of poor communities?"
He also warned against the lack of diversity of views in for example, Social Sciences and the Humanities which, he said, limited academic freedom.
Dr Nzimande reassured the Rhodes and Grahamstown audience that Government had no intention of using the Protection of State Information Bill to muzzle academic freedom or the media for that matter.
He said the Bill was aimed only at protecting sensitive state information of a security nature.
A "delicate balance" needed to be struck between ensuring the legitimate protection of information while not allowing the legislation to be abused to protect corruption.
Speaking on the issue of universities in general, Dr Nzimande said the university system faced "real" challenges, particularly with regard to the distribution of resources. "Every university ought to have the resources necessary to fulfil its purpose properly."
He said that he would prioritise putting Government resources into providing the basic necessary infrastructure to the poorer, particularly rural, universities to ensure they had decent student accommodation, adequate libraries, laboratories and other basic infrastructure.
"As far as infrastructure is concerned this may mean a temporary shift in the proportion of resources going to infrastructure at the better-off institutions," he warned. "But this is necessary in the interest of fairness and of increasing the efficiency of the system as a whole."
He also urged universities to face the challenges of integrating, expanding and strengthening the post-school system. This included improving interaction with Further Education and Training (FET) colleges.
The discussant at the memorial lecture, Director of the Centre for the Study of Democracy at Rhodes Prof Steven Friedman, said he agreed that universities should not be regarded as "refuges from society" but should be "embedded in society and responsible to it".
He said academic freedom was not a protection against society but should always be a way of serving society.
However, Prof Friedman said the way in which resource constraints were dealt with should be debated.
While historically disadvantaged institutions should not be "starved of resources", one had to question to what extent these institutions -- which had been created by "apartheid bureaucrats" to prevent black people from going to the more privileged universities – could be transformed into effective academic institutions.
"Does it make more sense to put money into institutions which may not ever succeed when that money could be used, for example, to address the very real backlogs that exist and ensuring that disadvantaged students can gain access to those universities which were not geared by apartheid bureaucrats."
The annual Academic Freedom lecture is named after a former Professor and Head of the Department of Philosophy at Rhodes University "Daantjie" Oosthuizen who served in that position from January 1958 until his untimely death at the age of 43 in April 1969.
The first DCS Oosthuizen Memorial Lecture was delivered in 1970 by Dr Alan Paton.
Photo by Adrian Frost
Source:
Please help us to raise funds so that we can give all our students a chance to access online teaching and learning. Covid-19 has disrupted our students' education. Don't let the digital divide put their future at risk. Visit www.ru.ac.za/rucoronavirusgateway to donate