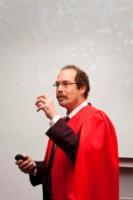 During the opening to his recent inaugural lecture Professor Peter Britz made reference to his colleague Professor Warwick's Sauer's lecture on squid earlier this month, and warned his audience that his own talk would be dealing with a far simpler creature - a marine snail which hasn't changed much in 100 million years.
His lecture was entitled 'Adventures with Abalone – Aquaculture, Poaching and Fishery Restoration' and, despite his demurral, he presented a fascinating insight into a mollusc which has been the subject of both successful farming endeavours and fierce poaching turf wars over the past few decades.
Abalone has two simple eye spots and four nerve ganglia instead of a brain. They graze on seaweed, and spend up to 30 years "sitting on a rock" on which they leave a visible scar once removed. Abalone pump out eggs and sperm from this sedentary position, fertilisation happens in the water, and the larvae float away to settle elsewhere.
Bigger abalones, like the South African perlemoen, are found in temperate waters, and are the more economically important ones. Prof Britz adds that the abalone is a good example of Richard Dawkins theory of Unintelligent Design - they experience torsion during growth and, as a result, defecate directly over their gills, a factor which impacts their transportability to a great extent.
The shell of the abalone is a mix of calcium carbonate and protein, resulting in a substance 3000 times stronger than pure calcium carbonate. The edible foot is regarded as a great delicacy, particularly in Asian countries, and the abalone is therefore a valuable food crop.
This is not a new phenomenon. Khoi-san shell middens dating back a hundred thousand years can be found along the South African coastline. In China, abalone serves the same function as champagne at celebratory occasions.
Prof Britz attended the first International Abalone Symposium in Baja Mexico in 1988, and then travelled north to California to observe an abalone farm, which he describes as both inspiring and useful in that he and his colleagues gained lots of ideas for their own abalone aquaculture attempts.
The first challenge was what to feed the farmed abalone, and this challenge provided Prof Britz with his PhD thesis. Abalones are generalist herbivores and, he discovered, will eat anything, including stray acacia leaves.
Eventually he developed a pelleted feed, with a pellet which stays intact for up to three days in water. His pellet diet provides excellent conversion of food to body weight.
A pilot hatchery for perlemoen was established and commercial mass-rearing systems were tried. Once success had been achieved, a perlemoen farm was built in Gansbaai and the first live export was sent to Japan in 1997, utilising a moist bag and oxygen, in which the perlemoen survive for 48 hours.
Aquaculture is a rapidly developing technology, and today's abalone farms place great importance on research. The World Wildlife Fund has brought in sustainability standards for abalone farmers to apply and to hopefully thereby gain a market premium.
Additionally, abalone hatched in hatcheries and released back into the wild, reseeding the natural habitat. Hatchery abalones are marked with white shell bands by means of their diet, which distinguish them from the uniform red shells of wild abalone.
A 50% success rate in reseeding has been observed, according to Prof Britz making it possible to reseed depleted wild stocks.
As has been well covered in the press, the threat posed to perlemoen stocks by poaching is a huge problem. The ever-increasing price paid for perlemoen on the markets made it more attractive to poachers; abalone was used to launder drug money which kept the per kilogram cost high.
Some years ago Prof Britz undertook research into illegal fishery, and found that there were three operating: rural fishing in the Transkei, shore based urban fishing and the highly efficient boat-based illegal fishery. Boats outside Port Elizabeth were poaching R500 000 worth per trip.
In 2009 the entire legal abalone fishery was closed down by government due to the threat of commercial extinction. This led to protests from legal fishermen, and in fact the amount of perlemoen on Asian markets increased as the poachers adapted their modus operandi.
The situation changed when the Zuma government came into power, and the fishery was re-opened with limited terms and conditions.
Former rights holders received an ex-gratia compensation payment and ranching and research guidelines were promulgated. Plans for a state hatchery for reseeding into the wild have been promulgated, but implementation has not been wholly successful.
However, says Prof Britz, lessons have been learned and the economic, legal/political and social pressures influencing human uses of the ecosystem have been acknowledged. He completed his talk with a reminder that we are all responsible for the management of our natural resources, and cannot rely solely on government to regulate and control it.
By Jeannie McKeown
Photo by Sophie Smith
Source:
Please help us to raise funds so that we can give all our students a chance to access online teaching and learning. Covid-19 has disrupted our students' education. Don't let the digital divide put their future at risk. Visit www.ru.ac.za/rucoronavirusgateway to donate