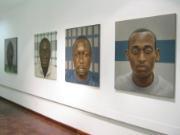 Arresting, defiant and thoughtful in turn, a series of 12 portraits stared back at the audience at the Dotun Makun's MFA Exhibition entitled Alien Nation. Measuring up to 1.7x1.2, the Alumni Gallery at the Albany Science Museum hasn't seen such striking work on its walls in a long time.
It is clear that the Rhodes student, Makun, who is completing his Masters in Fine Art this year, is asking some hard-hitting questions about the Nigerian diaspora through this body of work entitled ALIEN-Nation.
The body of work is split into two series. The Outsiders, is comprised of seven vast, dark
portraits of Nigerian women who live and work in Grahamstown. The artist spent a total of up to six hours per subject, painting from life.
The composition is based on the proportions of passport photos, which are "signifiers of identity as well as the currency of border crossing," explains his supervisor, Ms Tanya Poole.
"Through engaging in the traditional studio portrait process, careful perceptual observation and a telling interaction between sitter and painter are created. The gravitas of this interaction plays out in the rich paint and deeply humanist ethos of these works," she said.
Makun describes how the eyes received the most attention in the development of the portraits as it served as a marker of the subject's identity. "Throughout the studio session we interacted and the sitters told me so much about themselves and I would do same. It somehow seemed the steady gaze and exchange had something to do with it," he said.
The connection between the sitter and painter resulted in many layers of emotion being expressed through the eyes. "I seek ways to retell life and living with my agency and the way I 'see' or 'feel' it. My joy and grief are trapped within my medium and this paradox is essentially present in my work. Technique and skill are crucial aspects or qualities I consider relevant in my work process, as I am my own biggest critic. This is why there is continuous motivation to better and improve myself constantly," he said.
The second series, Ghana-must-go, is of Nigerian men, set against the geometric background of the bags used by African traders and travellers.
In Nigeria, these bags were given the 'Ghana-must-go' label after Ghanaians were forcibly removed from Nigeria in 1983. Dotun has been on both sides of the exile's fence: as a Nigerian in Nigeria at a time when Ghanaians were expelled, and as a Nigerian in a foreign country still overshadowed by xenophobia.
At the exhibition opening on Thursday, 1 December Prof Ruth Simbao commended Dotun for the "pertinent and subtle lessons" he poses through questioning these stereotypes.
"In sophisticated and meaningful ways the exhibition ALIEN-Nation grapples with this very intricate impulse to on the one hand deconstruct 'the nation' so as to lessen the weight of its shadow, and on the other hand to respectfully deal with and confront the lived experiences of discrimination and violence that lurk within this shadow," she said.
She said that by using the pattern from the so-called Ghana-must-go bags the viewer's assumptions about foreigners are questioned. This is echoed in how Dotun purposefully included portraits of people who are not Nigerian in the exhibition.
"Do we automatically associate a Nigerian or a Congolese accent with refugee status, with poverty, with struggle, with crime, with foreignness?" she challenged.
"A creative tension is set up between the stereotypes associated with these bags and the fact that Makun's sitters are professors, doctors and university students; they are visitors, permanent residents and citizens. In short, they are simply individuals: Josh, Steven, Dotun."
ALIEN-Nation will run from the 1-9 December, open from 10am to 4pm daily. The artist will conduct walkabouts on Wednesday, 7 December and Friday, 9 December at 3pm.
Photo and story by Anna-Karien Otto
Source:
Please help us to raise funds so that we can give all our students a chance to access online teaching and learning. Covid-19 has disrupted our students' education. Don't let the digital divide put their future at risk. Visit www.ru.ac.za/rucoronavirusgateway to donate