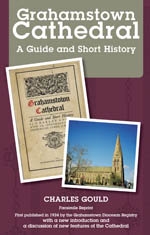 In a drive to share the Rhodes Cory Library resources with the wider community, the library took a decision to reissue some of the out-of-print books held in their archives – the latest volume being 'Grahamstown Cathedral, a Guide and Short History' by Charles Gould.
This book was originally published in 1924 by the Grahamstown Dioscesan Registry. The facsimile edition, painstakingly reproduced in exact detail, was launched at the Cathedral during SpiritFest last week.
The Eastern Cape REPRINTS series aims to introduce some of the Library's most valuable books to the contemporary audience. While the books themselves are classics, the facsimile editions each have a new introduction, to update the book and situate it in the context of the modern reader.
Cory Library is particularly proud of 'Grahamstown Cathedral' with its introduction by Jeanette Eve, author of "A Literary Guide to the Eastern Cape." The book has been published by NISC South Africa in Grahamstown.
Gould was himself a Grahamstown author and this makes a "Guide and Short History" a truly local undertaking, spanning the years between the original publication date and today. "Even people who think they know the Cathedral will find something new, "says Professor Jeff Peires, the head of Cory Library
The first two books in the REPRINTS series were "A Contribution to South African Materia Medica" by Andrew Smith of St Cyrus (first published in 1895) and "Ibali lamaMfengu" by Richard Tainton Kawa (first published in 1929). This title is a seminal exploration of the Mfengu peoples, after whom Fingo Village in Grahamstown East is named.
The Cory Library has seen a great upsurge in Xhosa visitors looking to trace their family ancestry, and, with its isiXhosa text, the book caters very much to this community. However, the newly-added introduction is in English, allowing it to reach a wider audience.
"Grahamstown Cathedral, a Guide and Short History" is available for R100 at both the Cory Library and the Grahamstown Cathedral.
Story by Jeannie McKeowin
Source:
Please help us to raise funds so that we can give all our students a chance to access online teaching and learning. Covid-19 has disrupted our students' education. Don't let the digital divide put their future at risk. Visit www.ru.ac.za/rucoronavirusgateway to donate