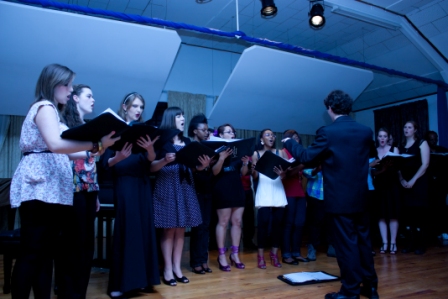 The Rhodes University Chamber Choir (RUCC) recently presented Diva's Night, where members of the choir showcased their talent in solo songs, duets and other ensembles in a celebration of a variety of musical genres.
Music performed at the event ranged from Handel's classic Messiah, to contemporary rock and pop tunes, and original compositions by choir members.
The evening began with an august rendition of the Shona spiritual, Ndiye Oga, by baritone Mr Malvin Charasika, followed by Ms Jessica Smith's ethereal interpretation of Enya's May it Be. The choir took to the stage with a piece composed for the society by tenor, Mr Glyn Lloyd-Jones, Behold, God is my Salvation as well as Mr Lloyd-Jones's arrangement of the cheerful Irish ballad Star of the County Down. A warm, familiar mood fell over the Beethoven Room when Mr Gareth Grant stirred the audience with an acoustic arrangement of Wonderwall by English rock band Oasis; and Mr Ben Ryan later serenaded his partner, Pam (also in the choir) with a song he wrote for her, Drums in the night.
The second half of the programme got the party started with choir members Ms Zasembo Mkhize, Ms Asemahle Badiwe and Ms Londiwe Madide turned a piano into a turntable in an exciting medley of South African dance music.
Ms Kendal Devy had the audience grooving with her animated performance of Florence and the Machine's Dog Days are Over. The final soloist, Mr Mark Mdluli, echoed the sentiment in the room when he closed with an enthusiastic performance of Don't Stop the Music, originally by Rihanna.
Mr Elethu Pambo performed a theatrical a cappella arrangement of diva Ella Fitzgerald's, Someone to Watch Over Me. Mr Pambo, fundraising coordinator for the choir and a BComm student at Rhodes, later described the event as a success.
Proceeds from the concert are going towards financing the choir's upcoming tour, scheduled to begin later this week, in which they will tour Johannesburg schools, churches and cathedrals with the repertoire they've been working on during the year.
"The tour is really about having time for the choir members to bond and encouraging publicity for Rhodes, and naturally for sharing our repertoire," said Mr Pambo, who has been a member of the choir for four years.
The tour also proves an opportunity for consolidating their repertoire ahead of their annual end of year concert in Grahamstown. Over the years the RUCC has built up an impressive and varied repertoire of sacred and secular music in many different languages and the annual repertoire always strives to be an eclectic mix of music ranging from ancient Gregorian chant, through sixteenth century to contemporary and traditional styles.
Original pieces by choir members will also be featured, including African medleys arranged by Ms Andile Nkosi and compilations by Mr Glyn Lloyd-Jones and his father, David.
Story by Sarah-Jane Bradfield
Picture by Adrian Frost.
Source:
Please help us to raise funds so that we can give all our students a chance to access online teaching and learning. Covid-19 has disrupted our students' education. Don't let the digital divide put their future at risk. Visit www.ru.ac.za/rucoronavirusgateway to donate