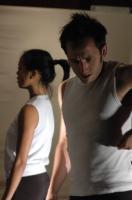 Rhodes Drama graduates Bailey Snyman and Jaques De Silva are proud recipients of prestigious awards. Mr Snyman was named the 2012 Standard Bank Young Artist's Award Winner for Dance and Mr De Silva received an ImpACT Award for Young Artists at the Arts and Culture Trust (ACT) awards ceremony held recently.
These talented artists honed their professional skills through two companies affiliated with Rhodes Drama. Mr Snyman worked for the First Physical Theatre Company for three years and Mr De Silva for Ubom! Eastern Cape Drama Company for four years.
"I expect this award to provide me with the platform to produce a body of work that will be well recognised and help shape an exciting future for me in dance theatre in South Africa," said Mr Snyman. After working as resident performer, choreographer and educator at the First Physical Theatre Company, he co-founded the Matchbox Theatre Collective with fellow Rhodes alumna Nicola Haskins in 2006.
Their most recent project, The Anatomy of Weather, won a Gold Ovation Award at this year's Festival.
"I think running the company with my creative and business partner Nicola Haskins has taught me to trust my own creative and artistic impulses.
"I have also learnt not to get swept up in the celebrity of the arts industry but to remain humble and focussed on the vision of the company and my own artistic ethos," he said.
Mr Snyman is currently working on a number of projects including a proposal for his PhD, which investigates the impact of HIV/Aids, crime and terror and the performed body and choreographic process.
His big dance piece to premiere on the Festival's main programme next year is an interpretation of Andre Carl van der Merwe's novel Moffie. He describes it as "driven by my core research into sexuality and violence. I intend creating a poetic, challenging and visually provocative dance work that will challenge ideologies and perceptions that still abound in the 21st century".
Mr Jaques de Silva is fast becoming known among South African theatre circles as a multifaceted performer of many talents. At this year's Festival he starred in three productions: The Butcher Brothers; Pollution Revolution and The Feather Collector, of which he was also a creative collaborator.
He said that his time as a performer at Ubom! laid down a solid foundation of hard work as habit.
"Ubom! gives you a fantastic opportunity to collaborate and be part of the process of creating. Leaving Grahamstown to go to Johannesburg, I needed to create because that is what I had been doing. For this I am so grateful to Janet Buckland, Brink Scholtz and Sarah Roberson for all their time, patience and encouragement for me as a person and young artist," he said.
He said that rubbing shoulders with some of the icons of the industry such as Mannie Manim and Mimi Coertse at the awards luncheon was a memorable experience. "It was fantastic to be with people who are constantly working to create a life in the arts. Their lives have shaped the arts for young artists to forge our own path," he said, adding: "Winning the award is such an encouragement. I am very young in my career and have so much that I would like to achieve."
By Anna-Karien Otto
Photo supplied: Bailey Snyman with Penny Ho Hin, 2004.
Source:
Please help us to raise funds so that we can give all our students a chance to access online teaching and learning. Covid-19 has disrupted our students' education. Don't let the digital divide put their future at risk. Visit www.ru.ac.za/rucoronavirusgateway to donate