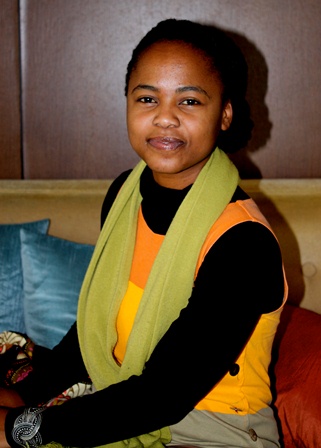 Two Rhodes Fine Art Lecturers, Ms Nomusa Makhubu and Professor Dominic Thorburn have been selected to serve on the National Arts Festival's artistic committee.
Ms Makhubu is an art historian and visual culture lecturer, an artist, a research team member of the Visual and Performing Arts of Africa (ViPAA) and former council member of the South African Visual Art Historians (SAVAH).
She is currently researching popular culture (film) in Nigeria, allowing her to also be immersed in spaces of artistic practice in South Africa and beyond.
In 2011, she served on the Nelson Mandela Metropolitan Art Museum selection committee for the Biennale, and adjudicated the Omooba Yemisi Adedoyin Shyllon Art Foundation photography exposition.
"The cultural momentum in South Africa is spellbinding. With more collaborative, experimental and daring art production practices, South African art unfastens a diversity of dialogues. It also necessitates constant review of its practices in relation to the African context and in the global arena," said Makhubu.
"The fact that the National Arts Festival is one of the most significant platforms on which these dynamics are enabled, draws me," she added. Makhubu brings an ability to do analytical research-based and critical evaluation of artistic trends locally and internationally, and will serve on the visual arts sub-committee.
Prof Thorburn is the current HOD of Fine Art Department at Rhodes University. As an artist and academic he has exhibited and published extensively locally and internationally. He has been awarded numerous residencies, awards, grants and scholarships. He has also worked with numerous developmental arts initiatives, including the Dakawa Art and Craft Project and the Egazini Outreach Project in Grahamstown.
On a national level, he has been involved in various projects, including the 'Break the Silence Campaign'. He has been a long-standing member of the Eastern Cape Provincial Arts and Culture Council (ECPACC), for which he still consults. He is a member of the newly appointed National Arts Council (NAC), chairing the visual arts advisory panel.
"I believe that Grahamstown has a lot to offer the festival, and that in turn the festival's potential to impact on Grahamstown's wider communities is only really starting to be tapped, and this is certainly an agenda I would promote," said Prof Thornburn. He has extensive experience and an interest in contemporary art and curation, and will also serve on the visual art sub-committee.
"The National Arts Festival is a forerunner in setting trends for South African arts festivals as well being an essential barometer of our nation's creative capital. The new members on the committee bring a reservoir of vast knowledge and integrity to help us to further drive our vision of being South Africa's premiere arts festival," said National Arts Festival Director Ismail Mahomed about the new members of the artistic committee. The committee plays a significant advisory role in the programming of the festival, as well as identifying artists for the prestigious Standard Bank Young Artist Awards.
"I'm incredibly excited about the impetus that the new members will give to the artistic committee. As a festival with a commitment to respond to the ever-changing arts and cultural landscape, I'm confident that the process of revitalising the artistic committee with membership tenure that is renewable every three years will contribute greatly to ensure that the National Arts Festival consistently stays at its prime position of being South Africa's most important celebration of artistic and cultural excellence and relevance," added Mr Mahomed.

The National Arts Festival is sponsored by Standard Bank, the Eastern Cape government, the National Arts Council, the National Lottery Distribution Trust Fund, the Sunday Independent and M-Net.
Source: Media Update website.
Source:
Please help us to raise funds so that we can give all our students a chance to access online teaching and learning. Covid-19 has disrupted our students' education. Don't let the digital divide put their future at risk. Visit www.ru.ac.za/rucoronavirusgateway to donate