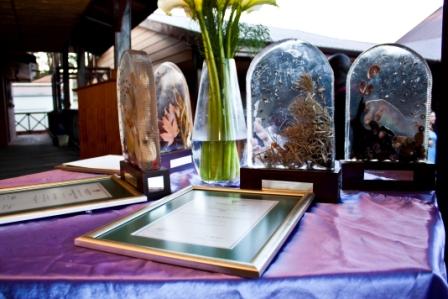 Marking the end of Rhodes Environmental Week, three Environmental Awards were presented at the Environmental Learning Research Centre last Friday (7 October).
Hosted by the Vice-Chancellor Dr Saleem Badat and Ms Shireen Badat, the ceremony was a well-attended occasion, including an impressive 35 Masters and 15 Phd students currently studying at the new Environmental Learning Research Centre facility.
Safety, health and environmental officer, Ms Nikki Köhly, read the citation for the first award in the individual category, awarded to Paul Robert Juby, who has been actively promoting greener living both on and off campus.
Among many activities, he put up posters at Winchester House, advocating switching off showers and lights and "taking readings of the electricity and water meters, graphing these and publishing the results so residents know how much they are using and the extent of their environmental impact," said Ms Köhly.
Juby teamed up with Alan Webb Hall to participate in Earth Hour, as well as approaching the SRC and Alan Webb to plant trees at Ntsika Secondary School.
The winner in the Student Society/Residence category was Hilltop 3 Residence which, according to Dr Badat, will soon be named Calata House after Cradock Four member Fort Calata.
Outgoing SRC Environmental councillor Kiarin Gillies, read the citation which shared the good ideas of installing motion sensor lighting and an energy efficient heat pump system at the residence.
"Inspired by the Green Fund Run held last year, where spekboom truncheons were distributed to all participants, the students in the residence have already planted an estimated 220 spekboom slips in the surrounding area which had been severely degraded during construction," said Gillies.
"The land rehabilitation project will gradually move beyond their own residence and into the greater Grahamstown community, with the aim of creating a tradition in their residence and a growing legacy of caring for and rehabilitating our environment."
While the citation for the Institute or Department category was being read by Grounds and Gardens manager, Mr Mark Hazell, it became all too apparent which department was receiving the award the very same building in which the ceremony was taking place.
Established through a partnership with Makana Municipality, DEA and SANBI in 2010, the Environmental Learning and Research Centre also forms part of a Sustainability Commons initiative - "a social learning project which is an integral part of the Makana Regional Centre of Expertise in Education for Sustainable Development" said Hazell.
Associate Professors of Education Prof Rob O' Donoghue and Prof Helia Lotz-Sisitka accepted the award, with Prof O' Donoghue modestly joking: "At first Heila and I thought we were getting the award, but then we realised, it's the building!"
He proceeded to describe how the proposed three-storey building was designed and built with environmental projects and processes in mind, losing a storey as funding ran out.
Acknowledging the builders and architects led by the chief architect Hilary Saunders, he thanked the Makana Mayor, Dr Colin Johnson and Mr Hazell. He also mentioned how Makana's Green City Initiative has led to an exciting collaboration with Grahamstown's Umthathi Training Project and key players in Sweden and other African countries.
Causing more laughter to erupt among the gathering, he mentioned how Enviro Masters student Dylan McGarry's pond has been such a hit with the local dogs that the edging has been damaged."But I think it's much more important for the dogs to have fun than for it to look beautiful!" he quipped.
He then invited everyone involved with the centre to come forward to stand on the front steps "to honour the building".
Dr Badat who delivered a short address, presented a beautiful and uniquely designed floating trophy and certificate to all the winners.
In his address Dr Badat emphasised how it is essential that humankind "navigates a more sustainable path to benefit the world". He emphasised how social and environmental justice are indivisible, seeing as "violence within nature or society, the perpetrators and the rationale is the same."
He proposed four ways to achieve this: to develop economically; equitably (in terms of distributing wealth and resources equally); democratically (without destroying the planet or violating human rights) and, above all; sustainably. In emphasising how this process should be simultaneous and not sequential, his statements elicited applause of approval from the gathering.
"We must constantly interrogate how knowledge, learning and community engagement all three of which are happening at the centre can re-theorise environmental issues," he said. "We need to bridge the divide between theory and practice."
He reminded students to not be the "sweethearts" and insist on more sustainable practices on campus. Thanking the staff, Dr Badat reminded Professors Lotz- Sisitka and O'Donoghue that "the building doesn't think" so all the credit goes to them and their teams.
He concluded with a humorous and thought-provoking comment: "The wonderful thing about being human is that we think, at least some of the time!" he joked.
By Anna-Karien Otto
Photo by Adrian Frost.
Source:
Please help us to raise funds so that we can give all our students a chance to access online teaching and learning. Covid-19 has disrupted our students' education. Don't let the digital divide put their future at risk. Visit www.ru.ac.za/rucoronavirusgateway to donate