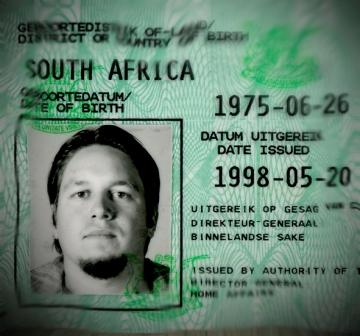 Fine Art Senior Lecturer, Mr Brent Meistre, will this year represent South Africa at the Bamako Biennale, Mali, which runs from 1 November 2011 to 1 January 2012.
The exhibition, which takes place every two years, was initiated in 1994 as a showcase for African photography. Produced by Mali's Ministry of Culture, the event features both photographic and video works, and attracts an international audience.
Mr Meistre is one of five South African photographers whose work will be featured in the exhibition; of those five, he is the only solo artist not sponsored by a gallery.
Mr Meistre's featured work, The stranger who licked salt back into our eyes (2009), is a stop-frame animation comprised of photographs from his travels in both South Africa and Greece.
He says that the five minute piece was "first stitched together during the xenophobic attacks" of 2009, and is concerned with the notion of "being a stranger, an outsider".
Using the Greek xeni ('foreigner') as a point of departure, the work subtly negotiates themes around xenophobia, with contrasting imagery from Greece and from sites traversed by the Dorsland Trekkers across Southern Africa.
However, the piece is not limited to a purely South African context. The use of black and white imagery interrogates the notion of the photograph as a document of historical fact.
Images of sailing, rowing and footsteps indicate the significance of travelling in relation to the notion of otherness and being, or becoming, an outsider. Adapted from the traditional Swahili love song "Malaika", the soundtrack emphasises a sense of loss and melancholy for the stranger on his journey.
The work is part of Meistre's Sans project: a trilogy exhibition, linked aesthetically and thematically. All three pieces confront issues of South African history and landscape, as well as borders and migration.
In addition to his Senior Lecturer duties, Mr Meistre is also Sectional Head of Photography of the Rhodes Fine Art Department. He has been an ABSA Atelier Merit Award Winner, a finalist in the Daimler Chrysler Award for Contemporary Photography and was the first recipient of the Nelson Mandela Metropolitan Museum's Biennale Prize.
Mr Meistre has had numerous solo exhibitions, partaken in many group exhibitions and has done commissioned and commercial work for clients as diverse as The Development Bank of South Africa, Merian and Stern magazine amongst many others.
For more information, go to www.brentmeistre.com.
Source:
Please help us to raise funds so that we can give all our students a chance to access online teaching and learning. Covid-19 has disrupted our students' education. Don't let the digital divide put their future at risk. Visit www.ru.ac.za/rucoronavirusgateway to donate