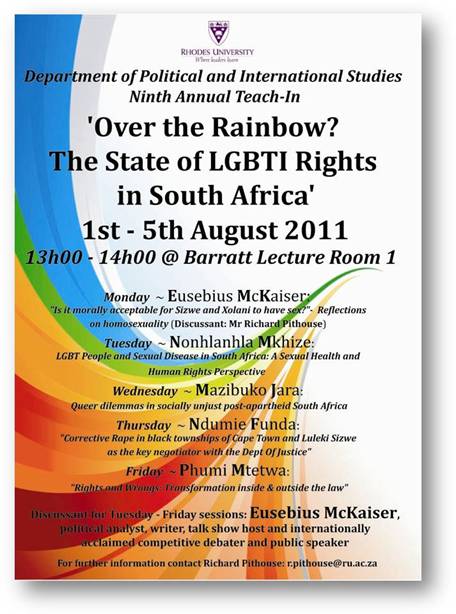 The Department of Political and International Studies at Rhodes is currently hosting its ninth annual Teach-In series of public lectures, with the aim of stimulating debate and bringing to the attention of the University, the wider Grahamstown and Eastern Cape communities a particular issue of interest and concern in public policy: the state of LGBTI Rights in South Africa.
Opening the lecture series was Eusebius McKaiser, writer, political analyst, talk show host and Rhodes graduate. His lecture, entitled: Is it morally acceptable for Sizwe and Xolani to have sex? Reflections on homosexuality, explored the arguments some use to justify homophobia in South Africa.
McKaiser argued that many subscribe to the school of thought that homosexuality is unnatural and therefore immoral.
It is unnatural in the sense that homosexuals are statistically a minority, other animals don't do it and homosexuality is distasteful. He said that if homophobia is based on these reasons then it is flawed because there is no morally relevant sense in which homosexuality is immoral. Even if it is unnatural, it does not follow that homosexuality is, thereby, immoral.
McKaiser went on to say that government policy on the rights of the LGBTI should be based on preventing harm from coming to its citizens instead of being based on an individual's matter of taste or distaste.
In South Africa we celebrate the fact that there is gay rights tolerance however this is not enough. We need to change people's attitudes and behaviour toward homosexuals and that needs to be a long-term goal, said McKaiser.
Activists going forward are faced with the challenge of finding new tools and approaches to changing these attitudes.
Other speakers at the Teach-In include: Nonhlanhla "MC" Mkhize from the Durban Lesbian and Gay Community Health Care Centre; Mazibuko Jara, activist, trainer and monitoring and evaluation specialist; Ndumie Funda the Director and Founder of Luleki Sizwe in Cape Town as well as Phumi Mtetwa, Director of the Equality Project in Johannesburg.
The Annual Teach-In takes place until Friday (5 August) at the Barratt Lecture Theatre 1 from 13h00.
Story by Nompumezo Makinana
Source:
Please help us to raise funds so that we can give all our students a chance to access online teaching and learning. Covid-19 has disrupted our students' education. Don't let the digital divide put their future at risk. Visit www.ru.ac.za/rucoronavirusgateway to donate