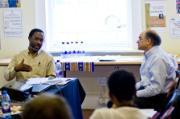 Professor Lungisile Ntsebeza, NRF Research Chair in Land Reform and Democracy in South Africa, Department of Sociology at the University of Cape Town called for a reinvigoration of research into South Africa's countryside during his presentation at a recent South African Humanities Deans' Association colloquium.
In a paper titled: "Struggles in South Africa's countryside in historical perspective", Prof Ntsebeza highlighted how much of what has been written about resistance and struggles against colonialism and apartheid in South Africa has been on urban areas, to the detriment of research into rural areas.
"My studies told me the most important thing to study is the urban. Marxism and economic history never exposed me to the countryside. My studies told me that the rural is almost dead," he said, adding that the dearth of literature on South Africa's rural areas suggests that "the rural is not taken seriously at all".
Exceptions do exist but these are rare, he said, and include the Defiance Campaign of 1952, the Sharpeville and Langa massacres of 1960, the Soweto uprisings of 1976 and the Vaal Triangle uprisings of the early 1980s. "When popular struggles re-emerged after the ruthless suppression of the 1960 resistance efforts, the attention was on resistance in urban areas, with trade unions emerging as a force to be reckoned with," he said.
Taking a historical view of South Africa's urban areas and its struggles, Prof Ntsebeza also highlighted a lack of literature regarding the accurate portrayal of rural peoples' active participation in political processes.
"These people were fighting against policies that were directly affecting them. They were the agents of their own struggles," emphasising the need for more research into rural peoples' engagements with politics and increased synergy between them and urban-based NGOs.
Highlighting the necessary shift from land-based livelihoods in the Bantustans during colonialism and apartheid, Prof Ntsebeza said these forms of farming practices "weren't going to take the rural people anywhere".
Suggesting that the decline in land-based livelihoods and crop production and a shift toward livestock and grazing was a necessary one, Prof Ntsebeza contested the idea that "in the past the lands were green and fertile and now they are lying fallow, implying that people are no longer interested in land," he said.
Land may not be used for intensive crop production as much as it was in the past but land is increasingly being used to graze livestock, he added.
Citing four reasons why land is important post 1994, including the amount of people who call rural areas home, the excess labour force who reside in the countryside, government's commitment to land reform which Prof Ntsebeza said despite its failings presents possibilities for those interested in making a living off the land, and the potential of rural development to address poverty. "Because of these reasons I believe it's a crime for us as intellectuals to continue to marginalise the countryside and privilege urban studies," he added.
Since assuming the NRF Chair in Land Reform and Democracy in South Africa in 2007 Prof Ntsebeza has been focusing on compiling an argument about the significance of the countryside as a scholarly exercise, and has been involved in a project researching rural development in South Africa.
By Sarah-Jane Bradfield
Photo by Adrian Frost
Source:
Please help us to raise funds so that we can give all our students a chance to access online teaching and learning. Covid-19 has disrupted our students' education. Don't let the digital divide put their future at risk. Visit www.ru.ac.za/rucoronavirusgateway to donate