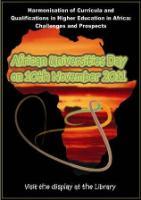 As a member of the African Association of Universities (AAU), Rhodes University hosted African University Day on Thursday 10 October 2011 as a way of responding to an annual call by the AAU to take responsibility for the development of Africa and to raise awareness of the critical issues surrounding the selected theme each year.
This year's theme, "Harmonisation of Curricula and Qualifications in Higher Education in Africa: Challenges and Prospects", will be incorporated in a display in the library where staff and students can participate and share their views on the debate in written form at a display stand.
According to the Director of the International Office at Rhodes, Ms Orla Quinlan, Rhodes believes that: "special attention must be paid to developing relations with institutions on the continent and to continue to provide quality and affordable tertiary education to African students."
"Internationalisation at Rhodes is a conscious, proactive and consistent effort to create an institutional learning environment inclusive of international, intercultural and global dimensions at every level of thinking and practice within the institution.
"Our ambition is to provide an environment and culture that facilitates academic staff development and practice that in turn fosters the development of graduates who are aware of the wider world and who have a sense of responsibility and commitment to making constructive contributions at the local, national, continental and global level in their chosen fields," said Ms Quinlan.
"We are specially asking participants to think about how recent developments in the global context should influence our thinking on these processes. We anticipate that following African Universities Day, there will be a greater awareness among the Rhodes University community of the challenges and prospects for the harmonisation of African Higher education processes," she added.
By Sarah-Jane Bradfield
Source:
Please help us to raise funds so that we can give all our students a chance to access online teaching and learning. Covid-19 has disrupted our students' education. Don't let the digital divide put their future at risk. Visit www.ru.ac.za/rucoronavirusgateway to donate