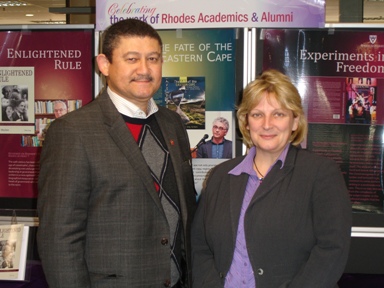 Previously thought to be polarised and disparate worlds, developing and developed nations are now interacting in mutually-beneficial partnerships.
Academic institutions are on the forefront of these partnerships, facilitating exchanges and creating networks that are proving invaluable for world's collective development.
One of Rhodes University's key international networks, SANORD (South African-Nordic Centre), is helping lay pathways for cooperative research that will strengthen intellectual and cultural capital as well as the overall capacity of participating institutions.
The Southern African-Nordic Center is a partnership of 32 higher education institutions from all the Nordic countries and southern Africa. The centre was designed to promote multilateral research cooperation in crucial development areas in both regions. Leolyn Jackson, the coordinator of SANORD, recently visited Rhodes to discuss incentives for universities to work within the consortia.
During the visit, Prof Roddy Fox, head of the Rhodes Geography Department, discussed the benefits of cross-continental university collaborations, drawing from his experience working with Högskolan Väst in Sweden, and the University of Turku's Economic Geography Department in Finland. Prof Fox shared what aided and what hindered the process of building these relationships. Both partnerships involved student and professorship exchanges, allowing valuable development to take place, said Prof Fox.
Orla Quinlan, of the Rhodes International Office, has seen that the growing trend for university research is to be more collaborative instead of bilateral. Quinlan explained that linking to SANORD would help increase the university's overall access to outside opportunities, as those within this network are given first choice when potential collaborations arise.
Quinlan also believes that connecting to SANORD would create greater unity amongst Rhodes own faculty and students: "It means working collaboratively together to increase academic mobility between students and staff, and working on joining research and applying for opportunities together."
SANORD hopes to stimulate interdisciplinary research across multiple institutions, at times providing grants to help secure these relationships. Among the many projects SANORD has supported are, water research, global climate change research, community media and global technology integration and approaches to combining HIV and tuberculosis treatment.
The creation of lasting partnerships for the purpose of creatively addressing the real issues, is the primary aim of this network. "Many of the world's problems are global in nature and exceed the fragmented capacities of single institutions, countries and regions…They require our combined efforts," explained SANORD's most recent newsletter. It is in such a space that the true power of a consortium like SANORD is revealed. Through the building of strategic collaborations, countries and institutions can achieve more than when they rely on their own strength.
Story by Hailey Gaunt
Source:
Please help us to raise funds so that we can give all our students a chance to access online teaching and learning. Covid-19 has disrupted our students' education. Don't let the digital divide put their future at risk. Visit www.ru.ac.za/rucoronavirusgateway to donate