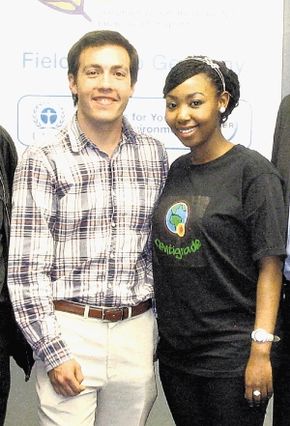 Two young South African university students flew the flag high when they presented their environment projects to their peers from 18 countries here this week.
Boitshoko Mokgautsi and Alex Lenferna are representing South Africa in the 2011 Bayer Young Environmental Envoy 2011.
Forty-seven young people from 18 countries in Africa, Asia and Latin America are meeting in Germany to discuss environmental projects they implemented in their communities.
Two other African envoys from Kenya are Michael Muli and Ruth Sego. Lenferna founded a student organisation, South East Aftcan Climate Consortium Student Forum (Seacc SF) at Rhodes University in Grahamstown.
Presenting his project, Lenferna said: "I formed this because I realised that for students climate change is the highest calling of our time. I also realised that young people have the knowledge, but not the platform from which they can share it. Seacc SF provides an inter-disciplinary platform for students to engage with environmental leaders.
"We started a challenge at our university residences to see who could reduce their energy usage the most. The one with the lowest usage wins a prize, but the students are also more aware of saving energy," Lenferna said.
Seacc SF was started at Rhodes University, but has now spread to Fort Hare University, the Nelson Mandela Metropolitan University and the Walter Sisulu University.
"When we talk to students we realise that we are talking to the converted so we try and move into squatter camps and teach the people there about conserving the environment," Lenferna said.
He said his organisation was aimed at harnessing the power of the youth to change the world.
Mokgautsi, from the University of Johannesburg, who belongs to CentiGrade, which focuses on awareness of climate change and green living, said: "Climate change education can not only be targeted at young people. You have to teach the whole community. That is why we sometimes take the elderly in Soweto to discussions to educate them in saving energy."
Milu started a project aimed at finding alternative energy sources for cooking and heating. Instead of charcoal or fire wood, they encourage people to use briquettes made from shredded newspaper, small wood chips, dried leaves, sawdust and cow dung.
Segos' project focuses on the advantages of the castor oil plant, a common plant in Kenya, which contains between 40 and 60% oil.
Source: Sowetan Live
Source:
Please help us to raise funds so that we can give all our students a chance to access online teaching and learning. Covid-19 has disrupted our students' education. Don't let the digital divide put their future at risk. Visit www.ru.ac.za/rucoronavirusgateway to donate