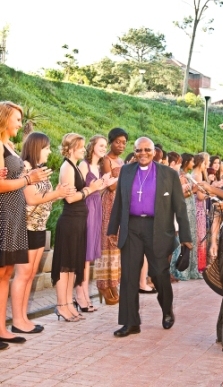 The importance of names and naming was the pervading theme on Wednesday night residence naming ceremonies, attended by Archbishop Emeritus Desmond Tutu and struggle stalwart Mrs Amina Cachalia.
Mrs Cachalia, a veteran of the struggle against apartheid who took part in the march by women on Parliament commemorated each year by Womens' Day, spoke at the opening of Amina Cachalia House.
A naming ceremony, she said, represents the first in a series of rites which link individual to community, helping to determine their journey through life.
The naming of what was previously known as Hilltop Hall and Hillltop 1, 2 and 3 residences with the names Desmond Tutu Hall, Amina Cachalia, Ellen Kuzwayo and Calata houses represents, she said, "the rebirth of Rhodes University as it embraces transformation."
This sentiment was echoed later by both the Rhodes Vice-Chancellor Dr Saleem Badat and Archbishop Emeritus Desmond Tutu during the formal dinner attended by dignitaries and senior university administration but also by the 337 students who make up the Desmond Tutu Hall.
Over half of all Rhodes University students live in residence, and Dr Badat expressed his belief that this contributes greatly to Rhodes having the highest marks and best pass rates of any university in South Africa.
Continuing the theme of naming, he reiterated that: "naming is more than simply attaching a name to a building. It is a reflection of ethical components, and a key element of our institutional culture."
The names chosen for the hall and houses all honour extraordinary lives, who embody the Rhodes values of Strength, Virtue and Truth.
Archbishop Tutu spoke briefly after unveiling the plaque which bears his name at the entrance to the Dining Hall, expressing his sense of privilege at being honoured through the choice of the students themselves.
He encouraged them to think big, saying that Nobel laureates are people "just like you. You have to say each one to yourselves – the sky is the limited. Nothing is going to stop me being the best I can be."
At his more formal address later in the evening, Archbishop Tutu returned to the importance of names, praising the students for selecting the names of people who stood up against a vicious and unjust system, and whose values they wish to emulate.
"They were fantastic human beings," he said, "just like you, because you do not know yet for what you are going to stand up and say 'this far and no further.' As an old man, I feel a sense of relief we can leave our world to you."
He added, however, a caveat to his sentiments that those who deserve it should be honoured, saying that leaders cannot operate in a vacuum. They are leaders because they have followers, and he accepted the honour of the hall being named after him on behalf of the millions who gave him the privilege of being their leader.
Archbishop Tutu also appealed for sensitivity in the naming and renaming of buildings, roads and other infrastructure, saying that it should not be a divisive exercise but should rather reflect the unity of spirit seen at the Truth and Reconciliation Commission, of which he was chair. "Our Lord Jesus Christ on the cross said he would draw all to him, not merely some."
Another Rhodes residence, previously known as New Res 2, was formally named Rosa Parks House on the 6th March, after the inspirational icon of the American Civil War Movement who sparked the influential Montgomery Bus Riots in 1955 after refusing to give up her seat on the bus to a white man.
Story by Jeannie McKeown
Picture by Judith Doubell