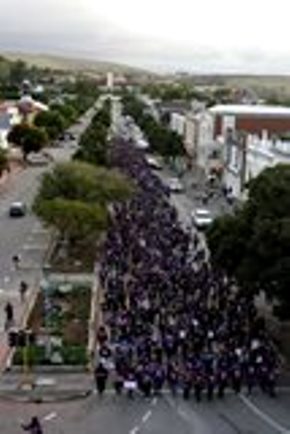 More than 1 000 Rhodes University students and staff braved the winter chill early yesterday morning to march across campus to protest rampant rape and sexual violence.
Many of the Silent Protest participants made a powerful statement to speak out against sexual violence when they arrived at the 6am march with their mouths ducttaped shut. Several more did the same throughout the day - going about their business without talking, eating or even drinking.
First-year BA students Belinda Campbell, Tshwaragano Thabanelo and Emmalene Barron-le Roux spent more than 12 hours with their mouths taped shut to "speak out" against the problem. Responding to Saturday Dispatch questions by writing in a notebook, they said they were using cellphones and social media to communicate with each other.
"The taping of our mouths and fasting the entire day may seem shocking to many, but rape and other forms of sexual abuse are just as shocking," Barron-le Roux from Port Elizabeth wrote.
Her protest T-shirt said one in three women and one in six men were silenced by rape and sexual violence. Campbell, from Malawi, said she was supporting the protest in solidarity with women in her country who were unable to speak out.
Thabanelo, from Pretoria, said a lot of gays and lesbians were victims of "corrective rape".
Organiser Kim Barker, a pastoral therapist doing a PhD in psychology, said the Rhodes protest - now in its eighth year - had spread to other campuses and cities.
Victoria Girls High School pupils also held their own Silent Protest across town while students from Walter Sisulu University and Fort Hare University travelled to Grahamstown to join the university protest with the view of holding it on their campuses next year too.
Acting director of student affairs Dr Colleen Vassiliou said the murder of student Amanda Tweyi - who was shot dead in a university residence allegedly by a boyfriend earlier this year - had "devastated" the campus. "Her death affected us all and I remember after her memorial service thinking that we need to break this cycle of violence ... if we all start in our own small way to take a stand ... we are contributing to a bigger cause."
Article Source: Saturday Dispatch
Article by: David Macgregor
Source: Saturday Dispatch
Please help us to raise funds so that we can give all our students a chance to access online teaching and learning. Covid-19 has disrupted our students' education. Don't let the digital divide put their future at risk. Visit www.ru.ac.za/rucoronavirusgateway to donate