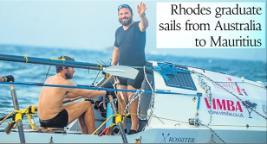 Rhodes graduate sails from Australia to Mauritius AFTER almost two months paddling a rowing boat from Australia to Mauritius, the biggest disappointment for South African extreme athlete Cameron Bellamy was not making it home instead. Although Bellamy and the rest of the record-breaking crew crammed into the specially built boat all dreamed of becoming the first team to touch land in Africa, they had to settle for the Indian Ocean island.
"We did 7 500km in 57 days and 10 hours... it was disappointing for me especially missing South Africa," he said. Hit by a hurricane and storms shortly after leaving, the crew on the 13-metre Avalon had to alter course - making it impossible to reach their planned destination. "We were at the mercy of very volatile weather conditions and were forced further north than we expected."
The Rhodes University graduate - who has spent the past few years doing extreme challenges around the world to raise more than R760 000 for two charities in Grahamstown and Zimbabwe - said his latest adventure raised R260 000. "I spent five years in Grahamstown at Rhodes University and the Eastern Cape is probably my favourite place in the world."
The Grahamstown charity that Bellamy supports is the Ubunye Foundation. "They can make relatively small donations go very far and are very transparent in the work they do." The epic paddle broke the existing record by 10 days and achieved the fastest average speed as well as the longest distance ever rowed. Being crammed into a tiny boat for so long meant everybody had to get along no matter what. "Variety is always good to keep things interesting and entertaining.
However, you have to be very tolerant of other peoples' habits and personalities." Although there were many funny moments, Bellamy said the scariest was having to medically evacuate a crew member after he spilt boiling water on himself - suffering first degree burns over a large part of his body. "We tried to manage the wounds on board.
However, we eventually made the decision to have him evacuated from the boat for his own safety. "Fortunately he had emergency medical insurance which organised for a tanker to deviate from its course to pick him up." Arriving in Mauritius late last week was "amazing" and amusing at the same time. "It took a day and a half to find my land legs again. The entire crew looked intoxicated even before they had their first drink post arrival."
A financial analyst - when he is not doing extreme challenges - Bellamy said he had spent 10 years dreaming of doing an epic crossocean row. Although unsure of what to do next, Bellamy said it may involve an Atlantic crossing and speed record attempt. "It was a very difficult row but an experience I will treasure forever.
The hardest part of the row were the shifts of two hours on, two hours off - day and night - and the sleep deprivation that arises from this." Despite the inconvenience of blisters on his hands and butt, Bellamy said: "There is a part of me that still wants to be out there." — davidm@dispatch.co.za LONG HAUL: Rhodes University graduate Cameron Bellamy waves to supporters after completing an epic 7 500 kilometre row from Australia to Mauritius Picture: SUPPLIED
By David MacGregor
Source: Saturday Dispatch
Source: Saturday Dispatch
Please help us to raise funds so that we can give all our students a chance to access online teaching and learning. Covid-19 has disrupted our students' education. Don't let the digital divide put their future at risk. Visit www.ru.ac.za/rucoronavirusgateway to donate