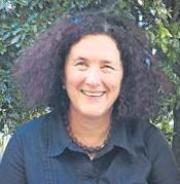 ICE-COLD Antarctica may be thousands of kilometres and many climates removed from sunny South Africa but that does not mean its weather and environment changes do not affect us.
This emerged at a Grahamstown think-tank involving 80 of the country's top science brains involved in more than 30 years of multi-disciplinary government funded National Research Foundation (NRF) work in the South African National Antarctic Programme (Sanap).
According to Sanap symposium organiser Professor Rosemary Dorrington - a Southern Ocean veteran - what happened in the area was a major driver of climate change in sub-Saharan Africa.
She said climate changes in the Antarctica area affected weather here. "Our weather is absolutely dependent on what goes on in the Southern Ocean area."
Dorrington, a Rhodes University microbiologist, said the fact the Southern Ocean absorbed heat meant it was also a major sink for removing carbon dioxide (CO2) from the earth's atmosphere.
"It's ability to do both is affected by climate change which is why some research has focused on CO2 levels in oceans."
The symposium, last held in 2008, brings together researchers from diverse scientific fields including physics, oceanography, marine biology, terrestrial ecology, space science and astronomy.
Dorrington said it was the perfect platform for diverse disciplines to "cross-fertilise" ideas often leading to collaborations.
"It is an exciting community, the people are so different but the focus is on the same problems in the same place."
She said research was vital to predict consequences of global changes in climate, population resettlement and their impacts on the food chain.
Opening proceedings on day two of the three day symposium yesterday, Rhodes University deputy vice-chancellor of research and development Dr Peter Clayton said ongoing NRF funded research had produced more than 2 000 scientific papers from all of South Africa's universities.
"It is one of the most important projects funded by the NRF, it has brought together some of the top people in their fields."
Topics covered included climate change and impacts on flora and fauna in the ocean and several islands used by researchers.
The research has not only been shared among South Africans but also with experts from other countries.
By David Macgregor
Photo: Prof Rosemary Dorrington
Source: Daily Dispatch
Source: Daily Dispatch
Please help us to raise funds so that we can give all our students a chance to access online teaching and learning. Covid-19 has disrupted our students' education. Don't let the digital divide put their future at risk. Visit www.ru.ac.za/rucoronavirusgateway to donate