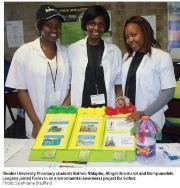 Managing water better, safely disposing of old medicine, and littering less were the focus of an environmental health awareness project by three Rhodes University Pharmacy students.
"I was raised in a community where we had to walk at least an hour to get water from a tap, so we made do by digging our own well in our yard to make things easier," explains Botheo Nhlapho, fourth year Pharmacy student at Rhodes University.
Nhlapho joined forces with fellow students Abigail Ncomanzi and Nompumelelo Langane to create an environmental health awareness initiative and host an exhibition at this year's SciFest.
Professor Sunitha Srinivas encouraged them to consider the local implications of sustainable lifestyle issues based on the Millennium Development Goals (MDGs).
They focused their attention on the challenges faced by many Grahamstown locals in areas of environmental health. They aimed to create awareness of personal and communal responsibilities to be more ecofriendly in terms of managing water, plastic and litter and disposing medicines correctly.
Their efforts fall under the Faculty of Pharmacy's new initiative on Environmental health, spearheaded by Prof Srinivas, Dr Sandile Khamanga and Dr Roman Tandlich which advocates using service-learning initiatives such as the one designed in this program to increase community awareness.
After analysing the MDGs during the course, with a particular focus on MDG 7, environmental sustainability, the three students were encouraged to create public awareness initiatives.
SciFest provided the perfect public platform. According to Prof Srinivas, such outcomes are ideal given the carefully designed credit-based learning exercise incorporating environmental awareness and community engagement.
"As water has been one of our biggest challenges in Grahamstown, in terms of availability and sanitation, my project's aim was to educate learners from every background about ways in which we can save water as individuals and as a community," Nhlapho explains. Her project also provided information on how to conserve water and prevent polluting water sources;' Nhlapho explains.
For Ncomanzi the threat of incorrect medicine disposal is a cause of major concern.
"These concerns are a threat to human health in cases where a child mistakenly takes prescription medicines which are carelessly disposed of, coupled with potential environment damage if the medicines are disposed of incorrectly into sewer systems," Ncomanzi explains.
Langane focused on environmental health - how plastic and litter affect the environment ultimately having an impact on human health.
"In my work I aimed to show how plastics take a very long time to decompose and that a failure to practice recycling and reusing leads to their accumulation in the environment, polluting land, oceans, rivers, and animals which are harmed," she explains.
Using national platforms such as Scifest is an excellent tool to reach out to the younger generations with creative, youth friendly advocacy approaches to sensitise them on the actions they can take at an individual and communal level to make positive changes to their health and quality of life when we consciously conserve and take care of our environment." Rhodes University Pharmacy students Botheo Nhlapho, Abigail Ncomanzi and Nompumelelo Langane joined forces in an environmental awareness project for Scifest.
Story and photo by: Sarah-Jane Bradfield
Source: Grocott's Mail
Source: Grocott's Mail
Please help us to raise funds so that we can give all our students a chance to access online teaching and learning. Covid-19 has disrupted our students' education. Don't let the digital divide put their future at risk. Visit www.ru.ac.za/rucoronavirusgateway to donate