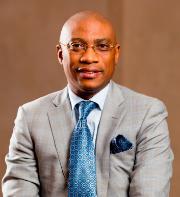 Enormous responsibility is nothing new to Vuyo Kahla, who, at the age of 26, was appointed assistant legal adviser to former president Nelson Mandela in 1996. Four years later, at age 30, he was appointed chief legal adviser to former minister of finance, Trevor Manuel.
Ten years later, at age 40, he was appointed group executive of advisory & assurance and company secretary of Sasol Ltd, in 2011. And now, at the age of 44, he has been appointed as the chair of the Rhodes Council.
"I was given wonderful opportunities at a young age by people who believed in my ability, and I believe in doing the same," Kahla, who has a law degree from Rhodes, says. "Irrespective of whether a person is younger or older, I appoint them for their ability and professionalism and not their age."
A driving force for transformation since his student days, his style has always been "change from within". He demonstrated this when he first sat on the Rhodes Council in 1992 at the age of 22, after being elected as the first black vice- president of the Rhodes Students' Representative Council.
The then vice-chancellor of Rhodes, Dr Derek Henderson, knew well the voice of the young man from Mthatha who confidently spoke his mind. Calling for an alternative admissions system at Rhodes back then, Kahla emphasised that admitting historically disadvantaged black students was essential for the sustainability of the university.
He explains that he was fortunate that his parents invested everything they had into giving him and his siblings a good school education. His mother, Liamiso, was a nurse and his father, Vusumzi, an adviser in the department of agriculture.
"It was the benefit of a good education that got me into a great university like Rhodes in 1990, but many other learners were not so fortunate. Which is why I strongly argued the admissions case, as well as the need to increase the number of bursaries and scholarships for people from historically disadvantaged backgrounds."
An alternative system of admission was subsequently implemented, and the number of bursaries and scholarships for historically disadvantaged black students has increased significantly over the years.
This year, Kahla's son Lubabalo, 18, is in the first year of his BA at Rhodes, bringing back strong memories for Kahla of his student years: "My first year, 1990, was the same year that Mandela was released. The ANC had been unbanned and we were filled with a sense of victory and hope for South Africa."
A politically active student, he also achieved well academically and was awarded the prestigious Abe Bailey Fellowship for academic and leadership prowess. After graduating with his BA LLB Kahla's life took a radical upward turn when his credentials led to him being appointed assistant legal adviser to Mandela. Working alongside Mandela's chief legal adviser, struggle stalwart and legendary human rights lawyer Fink Haysom, they did pioneering work on the application of the constitutional powers of the president under the new constitution.
What he lacked in years, Kahla made up for in guts, and he spoke out with authority against high-level decisions on several occasions.
On one occasion he advised Mandela to oppose the head of the South African Defence Force's decision to turn down an application by a female lieutenant-colonel to have the same medical benefits awarded to the families of male officers extended to the families of female officers.
Mandela turned around the decision and granted the lieutenant-colonel's appeal.
"One of the many wonderful aspects of working with President Mandela is that he valued professional excellence irrespective of age," Kahla says.
His next post, as director: corporate and transformation in the department of justice, led to his appointment as the first special adviser to the National Director of Public Prosecutions. In this capacity he advised on the establishment of the National Prosecuting Authority and the Directorate of Special Operations, or what became known the Scorpions.
He then joined the Treasury, where he became chief legal adviser to Manuel and the Treasury, whose director-general was Maria Ramos.
Ramos subsequently asked Kahla to join her when she became the group chief executive of Transnet. He joined the group executive committee, Transnet's highest decision-making committee, at the age of 34. His latest career move was to Sasol in 2011, where he gained the experience of working for a South African company with global reach.
On March 13 he took office as the chairperson of the Rhodes Council. Kahla has served both as a Rhodes Council member and as a member of the Rhodes Board of Governors for many years. He succeeds Judge Jos Jones who served as the chairperson of the council for 18 years.
Kahla's first, most pressing duty will be to lead the process of selecting a new vice- chancellor for Rhodes. "I will be leading this process in partnership with all affected stakeholders at Rhodes, including my fellow council members, academic staff, non-academic staff and student leaders." In addition to this, he wants to focus on boosting the sustainability of the university.
"I want us to closely examine the risks to the university and to address what needs to be done to sustain the momentum of transformation and progress that has characterised the era of Judge Jones and the outgoing vice-chancellor, Dr [Saleem] Badat."

By Heather Dugmore
Source: Weekend Post
Source: Weekend Post
Please help us to raise funds so that we can give all our students a chance to access online teaching and learning. Covid-19 has disrupted our students' education. Don't let the digital divide put their future at risk. Visit www.ru.ac.za/rucoronavirusgateway to donate