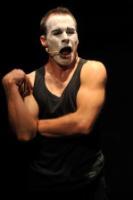 In his 10th year of performing at the National Arts Festival, Richard Antrobus, an ex-Grahamstown local and Rhodes Alumnus marks this celebration with his performance of "Being Norm". This show had its early roots in his Honours Mime project (2004) under the direction of Heike Gehring of the Rhodes Drama Dept.
"This was my first solo-show I ever created so it is fitting that it marks my 10th year performing at the National Arts Festival." His new expanded version, "Being Norm" is a light, fun-filled, simple yet bizarre adventure of one man's humble struggle against the universe, which conspires to make his life difficult.
"Being Norm" combines Antrobus' mastery of mime/physical theatre technique with a story that is fun for all ages and with wide appeal. This one-man solo show needs nothing but an empty stage and 45 minutes to captivate the audiences imagination, invoke their creativity and release a smile as they empathize with this universal nobody who's desperate to be somebody; to leave his mark on the world.
"Rhodes Drama Dept. has been fundamental to my growth as a performer with mentors such as Prof Gary Gordon, Prof Andrew Buckland, Prof Juanita Finestone and Heike Gehring."
Antrobus' MA project (2008), "Stilted" (Directed by Andrew Buckland), became a hit show and was the highest grossing physical theatre show on the NAF fringe for 2009 and 2010.
His participation in the popular fringe show "Hats" also topped NAF box office for 2010 and 2012. He has performed these two shows at numerous other festivals around the country including Hilton Arts Festival, Festival of Fame and National Schools festivals.
"Since my recent move to Cape Town last year, I am keen to make my stamp on the Mother City by bringing my brand of Mime/Physical Theatre/clowning into the Cape Town arena." However, Antrobus is quick to add: "But Rhodes and Grahamstown will always be a special place for me as this is where it all began."
Catch Antrobus' "Being Norm" from the 3rd –12th July at Oatlands Hall (Assitej Family Venue.
Photo and story supplied
Source: Richard Antrobus
Please help us to raise funds so that we can give all our students a chance to access online teaching and learning. Covid-19 has disrupted our students' education. Don't let the digital divide put their future at risk. Visit www.ru.ac.za/rucoronavirusgateway to donate