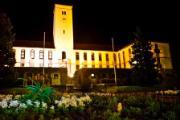 It is with deep regret that I have to inform the University community of the tragic death of two of our students, Mr Mohammed Mussa and Mr Rizwan Bhayat. They were Zambian nationals who were in their third academic year of study in Commerce and Pharmacy.
These two students, together with one of their friends, rented a boat early Saturday morning at Settlers Dam, which is situated in the Thomas Baines Nature Reserve. They encountered difficulties in the high wind and the canoe capsized. Their friend managed to swim ashore and made his way to a neighbouring farm, where he raised the alarm.
He was then taken to Settlers Hospital where he received medical attention and was discharged. The Acting Vice-Chancellor, Dr Mabizela, and other senior university officials arrived at the Settlers Dam soon after the alarm was raised on Saturday.
The South African Police Service, the police dog unit and police divers were on the scene until night fall on Saturday, when the search was called off for the day.
The Thomas Baines rangers searched the reserve and neighbouring farms for the students. Police divers resumed their search on Sunday morning and the bodies of the two students were recovered around 14h10 and 15h55.
Parents and other family members of the two students arrived in Grahamstown on Sunday and were at the Settlers Dam throughout the day as the divers searched for the bodies of their sons. The senior leadership of the University was there as well to support the two families.
I wish to record our sincere appreciation to the South African Police Service, their dog unit and their diving team for the professional manner in which they carried out the search for the two students.
I also wish to acknowledge with thanks and appreciation the support provided to the surviving student by Mr and Mrs Macleod, whose farm lies adjacent to the Thomas Baines Nature Reserve.
On behalf of Rhodes University, I extend our deepest condolences to the families and friends of the deceased.
By Dr Sizwe Mabizela
Acting Vice-Chancellor
Source: Communications and Marketing
Please help us to raise funds so that we can give all our students a chance to access online teaching and learning. Covid-19 has disrupted our students' education. Don't let the digital divide put their future at risk. Visit www.ru.ac.za/rucoronavirusgateway to donate