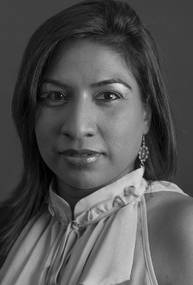 WITH new kids on the political block, the EFF, and Numsa's proposed workers' party both vying for support, the relationship between the two could be a defining moment in South African politics, Daily Maverick associate editor Ranjeni Munusamy said yesterday.
Munusamy said with the potential for voter growth lying in the unemployed and both parties speaking the same languages, they could either compete for an electoral base or join forces.
She was addressing Rhodes University students at the start of the Teach-In Public Lecture Series hosted by the university's department of political and international studies this week.
The lecture series will see popular political analysts, including the Electoral Institute for Sustainable Democracy in Africa's Ebrahim Fakir and analyst and author Eusebius McKaiser, have their say on the elections.
Munusamy, who spoke on the rise of Julius Malema and his EFF, said the relationship between the party and Numsa's proposed United Front was "definitely one to watch".
"They could either clash and end up competing or they could join forces as they have the same rhetoric," she said. "Neither of them are averse to cooperation, so it is still to be seen whether they will join up.
"Numsa will be hosting a conference later this year and [Numsa boss Irvin] Jim has already indicated that Malema is invited."
She said Malema's rise from being an ANC outcast to being the leader of "the second biggest opposition party" was the biggest story of the elections.
"The EFF was always the wild card of the elections because it was not known whether the support they got at their rallies would translate into actual votes. But Malema came back with a bang after being expelled from the ruling party," she said.
Fakir will speak on whether the elections brought about continuity or change and McKaiser wraps up the week with a provocative talk titled "What the heck is going on inside the DA? And who will win the fighting?"
Source: Herald
Please help us to raise funds so that we can give all our students a chance to access online teaching and learning. Covid-19 has disrupted our students' education. Don't let the digital divide put their future at risk. Visit www.ru.ac.za/rucoronavirusgateway to donate