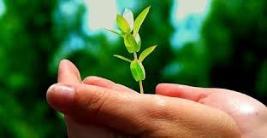 THE link between culture, nature and wellbeing, children's perceptions of the environment, as well as long-term vegetation change in the climate biomes of southern Africa and its implications for conservation will be in the spotlight at an "Arid Zones — Thicket Fusion" conference in Grahamstown next month.
The four-day seminar, at Rhodes University between September 8 and 11, will include field trips to a wind farm or a conservancy with burning environmental issues as well as awards for the best paper and posters by young scientists and students.
Restoration ecologist Dr Ayanda Sigwela said the gathering was a platform for stakeholders to share ideas.
"The Arid Zone Ecology Forum [AZEF] was initiated to focus attention on the problems facing the arid and semi-arid regions in southern Africa as well as the solutions required. More than half of southern Africa is either arid or semi-arid, encompassing a diversity of biotic ecosystems."
He said the arid zone consisted mainly of the succulent Karoo and Nama Karoo biomes as well as small areas of the Savanna and grassland biome.
"Similarly, the Thicket Forum was formulated to be a platform of information sharing among people working or interested in the thicket biome- dominated areas in the Eastern Cape.
"It also predominantly receives rainfall that is less than 500mm, thus the similarity between these two forums. It faces many challenges, most of which include degradation of vegetation cover.
"The conference is a platform where all relevant stakeholders from both these climate-based distribution areas can share ideas on land management."
Sigwela said the conference was for people who wanted to learn about their environment.
"This is a combined conference for both forums intending to attract land owners, land managers, government departments, conservation agencies, academics and students, both from the Eastern Cape and the Western Cape," he said.
"An average person should attend in order to be effectively informed of how to sustainably manage their surrounding."
Some of the topics include the emerging threats to these ecosystems and how to farm or manage land appropriately for sustainable living.
Article by: Thulani Gqirana
Article Source: The HERALD
Source: HERALD
Please help us to raise funds so that we can give all our students a chance to access online teaching and learning. Covid-19 has disrupted our students' education. Don't let the digital divide put their future at risk. Visit www.ru.ac.za/rucoronavirusgateway to donate