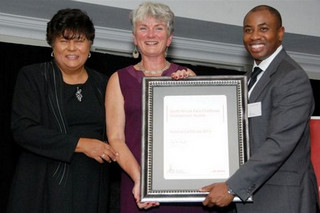 The Grahamstown-based Masibambane community project has scooped the ABSA award for the Best Child Development Training and Intervention Programme in South Africa.
The award was announced at a ceremony held in Johannesburg recently and the prize includes R60 000 to be spent on studies, training and/or minor improvements or equipment directly related to the project.
The Masibambane community engagement project is co-ordinated jointly by Mrs Agata Runowicz from the Department of Health and the Association for People with Physical Disabilities, and Dr Lisa Saville Young from the Psychology Department at Rhodes University.
Mrs Runowicz said, "the money from the award is likely to be spent on further training for caregivers and students in the special needs of children with disabilities. In addition, much needed assistive devices will be bought especially positioning and mobility aids for children to use at home."
"We are thrilled that this award recognizes the valuable partnerships that are forged between therapists, students and caregivers in facilitating a thoughtful approach to encourage the development of children with disabilities in our local community," said Dr Saville Young.
"Children with disabilities and their caregivers, particularly those living in socio-economically deprived contexts, are frequently marginalized and this award brings much needed attention to the demands and rewards of caring for these children," she added.
Absa, in partnership with the South African Congress for Early Child Development, the National Development Agency, UNICEF and the national departments of Basic Education and Social Development have successfully administered these awards for the past 10 years.
The foundation for the awards was laid as early as 1999 when Absa and the South African Congress for Early Childhood Development partnered to offer support to a leadership development programme.
Masibambane was shortlisted as a provincial finalist from over 4500 Early Childhood Development applicants for the South African Early Childhood Development Awards. The selection included a visit by the provincial adjudication team at the end of 2013.
The project involves psychology students working with a child with disabilities whom they visit once a week during term time. The students receive training on working with children with disabilities and are supervised by a social worker, a physiotherapist, occupational therapists, speech therapists and/or a psychologist so as to implement a suitable intervention for the child in negotiation with the child's caregiver/s.
"We are honoured to have contributed in the provision of quality Early Childhood Development in South Africa," said Head of Citizenship Africa at Barclays Africa Group, Mr Gideon Serfontein "The awards have been and remain the only type of this recognition in the sector".
"We have impacted the lives of practitioners by assisting them to acquire qualifications and learning material for the children. We are pleased to have recognised the vital importance of investing in early childhood development and partnered with the right people to help our nation prosper," he added.
These awards are an important calendar in the Early Childhood Development (ECD) sector borne out of public-private partnership collaboration.
Minister of Social Development, Ms Bathabile Dlamini delivered a keynote address at this year's awards. According to the Department of Social Development's preliminary audit findings, nearly a third (30.8%) of ECD centres have been built for the purpose of providing ECD services. For those centres operating from improvised locations, more than 17% are operated from a house or part of a house, including a garage, and 10% operate from a shack.
By Zamuxolo Matiwana
Source: Comuunications
Please help us to raise funds so that we can give all our students a chance to access online teaching and learning. Covid-19 has disrupted our students' education. Don't let the digital divide put their future at risk. Visit www.ru.ac.za/rucoronavirusgateway to donate