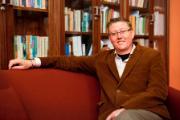 SOUTH Africa's poor school pass rates could be improved if indigenous knowledge was worked into the education system.
Rhodes University Xhosa expert Professor Russell Kaschula, who heads the school of language, yesterday said that experts attending an international folklore conference in Grahamstown were hoping to explore ways of documenting, preserving and disseminating this vast pool of oral literary knowledge.
According to Kaschula, the inability to infuse African thought and identity into the system was one problem, while another was not being able to adapt Western theories to the African situation - instead of taking them as a given in the African context.
"It is a pool of indigenous knowledge that we need to infuse within the educational system and this comes out strongly in the papers presented.
"Mathematics, for example, does not need to be taught and understood in one language only - our respective cultures and the structure of our languages can speak to the way in which we make sense of this discipline," said Kaschula.
Themed "I think what I am: Heritage, Identity and Social Cohesion", Kaschula said the 100 delegates would discuss the dynamic nature of culture and the links between folklore and all realms of indigenous knowledge - including science and technology.
"It is really an appeal to re-focus ourselves on the message of Black Consciousness that the late Bantu Stephen Biko left us: we need to know who we are before we know where we are going, and we need to be proud Africans, proud of our languages and our heritage," Kaschula said.
Several experts from around the world yesterday discussed diverse issues like funnyman Trevor Noah's unique brand of multilingual comedy, the validity of sick notes from traditional healers and even the different "politeness strategies" used by school pupils in China and Grahamstown when turning down an invitation.
According to Rhodes University African Languages expert Dr Dion Nkomo, different countries tackled different issues in their comedy.
A lot of UK comedy centered around conservatism and nationalism while American narratives focused more on racism and violence.
In South Africa racial and ethnic banter - which ridiculed politicians and the elite - was more dominant.
The conference - which is being hosted by the department of African Language Studies in Association with the National Research Foundation (NRF) South African Chairs Initiative (SARChI Chair) - continues today.
By David Macgregor
Source: Daily Dispatch
Source: Daily Dispatch
Please help us to raise funds so that we can give all our students a chance to access online teaching and learning. Covid-19 has disrupted our students' education. Don't let the digital divide put their future at risk. Visit www.ru.ac.za/rucoronavirusgateway to donate