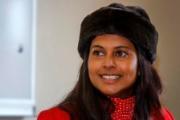 Language is one of the pivotal tools to effect transformation at a university like Rhodes, both visually in terms of multilingual signage as well as deeper transformation related to the curriculum. This according to SARChI Chair in the field of Intellectualisation of African Languages, Multilingualism and Education at Rhodes University, Professor Russell Kaschula.
Speaking at Rhodes University's Multilingualism Colloquium recently, Prof Kaschula was among a group of experts speaking on the topic of multilingualism and Rhodes' revised language policy.
According to Dr Sam Naidu of the English Department at Rhodes, the revised language policy affects each and every member of the Rhodes community. "Whether you are a research student wishing to write your thesis in a language other than English or whether you are a gardener or caterer wishing to conduct your job interview in a language other than English, provision is made for your language rights," she said.
She provided background to the new document which is among one of the most detailed in the country, along with the University of KwaZulu-Natal which makes ample provision for isiZulu as an additional language of learning and teaching.
She said, "this growing awareness of and attention to the politics of language in higher education is a trend, which is firmly established at Rhodes. Whereas before the revision students could only learn isiXhosa as a second or additional language, today approximately 600 students are studying isiXhosa at both mother tongue and second language levels, including undergraduate, Honours, Masters and PhD levels as well as the vocation-specific courses including Journalism, Law, Education and Pharmacy."
Dr Naidu spoke to the 2014 revision and updating of the language policy by a sub-committee of the Rhodes University Language Committee, originally formed in 2011 by representatives from across the University community and tasked with overseeing the implementation of multilingualism on campus as well as to revise the University Language Policy every three years.
A sub-committee was formed in 2012 and the procedure of revision followed was one based on the concept of "meaningful engagement". That is, the policy revision process was informed by a broader language policy framework in South Africa, by notions such as open-mindedness, transparency, mediation, consultation and empathy, by self-reflexivity, and as Neville Alexander puts it, by an awareness of "the fallacy of the ideological neutrality of the English language in our multilingual new South African reality".
Moreover, the Constitution of South Africa, with its emphasis on language rights and the status of African languages formed the bedrock of this revision process, which comprised a campus-wide survey about language usage, awareness of the language policy and rights, areas for improvement, failures and proposals for change.
The Language Policy in Higher Education guidelines laid down by the Council of Higher Education were considered, as were Language Policies at other tertiary institutions.
Dr Naidu added that the revised policy will hopefully foster the trend toward multilingualism, and she called on staff and students to implement it, "to promote multilingualism at Rhodes and to make it a living document."
Photo: Dr Sam Naidu.
Source: Communications and Marketing
Please help us to raise funds so that we can give all our students a chance to access online teaching and learning. Covid-19 has disrupted our students' education. Don't let the digital divide put their future at risk. Visit www.ru.ac.za/rucoronavirusgateway to donate