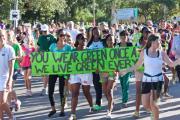 More than one thousand Grahamstown residents are expected to participate in the newly revamped Makana Green Fun Run, which takes place on Sunday 16 March 2014, starting at 16h30.
The event is set to promote environmental sustainability in town and on campus, with a view to raising environmental awareness and encouraging Grahamstown residents, scholars, students and businesses to adopt more sustainable lifestyles and practices.
The name change and new route comprising a 2.3km walk and 6.4 km run reflects the expanded organising committee's aim to reflect more explicitly the role played by the local municipality and community.
According to co-organiser Ms Nikki Kohly, Safety, Health and Environmental Officer at Rhodes University, organisers are hoping local community members will embrace the event and its objectives of increasing environmental awareness.
"We realise a lot of people really liked the Bots route, but as new members of the organising committee pointed out, that route tended to favour Rhodes University only....hence the move in an easterly direction. As with the name change, the idea with the new route is to physically demonstrate the inclusiveness of the event, and also make the start/finish more visible and accessible to all," she said.
One of the advantages of the new route is that participants no longer have to repeat the same circuit in different directions, which was the case with the old route, Ms Kohly said, noting that the new one is one continuous route (see details of route at www.ru.ac.za/environment/funrun/route).
The timing of the event, on a Sunday afternoon, has worked well as traffic volumes tend to be lower than on a week day. The only drawback is that the Traffic Department has fewer staff available to assist over weekends. However many volunteers are expected to assist with marshalling runners around the routes.
Accessibility and fun play an important part in the success of the event, Ms Kohly said, noting she has drawn on the "lovely ideas and energy" of new organising committee members.
This year Ubom! Eastern Cape Theatre Company will provide entertainment for participants on the Drostdy Lawns. "This will be a huge amount of fun - Ubom! is renowned for their dynamic and inspiring environmental productions. And it's a lovely way to entertain the crowds while we finalise certificates just before the prize-giving." In line with this participants are encouraged to wear eye-catching outfits that promote environmental awareness.
Certificates and indigenous trees, planted in participants' honour at DD Siwisa Primary School will be awarded to the first three individuals to cross the finish line, winner of the best outfit, the biggest Rhodes residence team, biggest school team and best business support.
Registration takes place between 15h00 and 16h00 on Sunday.
By Sarah-Jane Bradfield
Source: Communications and Marketing
Please help us to raise funds so that we can give all our students a chance to access online teaching and learning. Covid-19 has disrupted our students' education. Don't let the digital divide put their future at risk. Visit www.ru.ac.za/rucoronavirusgateway to donate