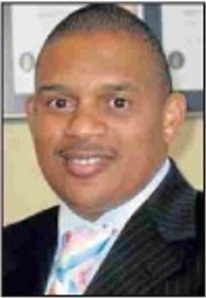 "MAYBE one day when I am old and sitting on a stoep on a farm somewhere and watching my grandchildren play I will feel like an old Rhodian."
Those are the words of Standard Bank head of personal and business banking, West Africa, Lincoln Mali who received the Distinguished Old Rhodian Award on Saturday.
Originally from Kwazakhele in Port Elizabeth, Mali manages Standard Bank's operations in Angola, Ghana, Democratic Republic of Congo, Namibia and Nigeria.
After receiving the award, he had a traditional thanksgiving ceremony where a goat was slaughtered to thank the ancestors and God for the achievement.
"I wanted to take the award back to my community because I come from there. I might travel the world but I know who I am and where I am from.
"I am overwhelmed and highly honoured, but I have to live up to the award now because of my age. You have a debt to pay back to society when you get such an award at a relatively young ace." the 46year-old married father of three said yesterday.
"I am very grateful to Rhodes and the people who nominated me. The award is not something that will ever go to my head because I am not that kind of a person. I am a grounded person.
"The award challenges me to continue to lead and be a role model even though I never saw myself as one. The only way to repay this debt is to act in a way that is befitting of the award."
Mali said it was important for leaders to take advice from their team.
"I am not a god. I am a mortal. I have flaws and limitations but if you open yourself up and listen to people, you'll grow.
"Your motive should not be about the position or about the money or else you will fall short," Mali said.
He said he would continue giving back to all the schools, including Ikhwezi Lesizwe (Fort Beaufort), Mzontsundu Secondary, Ithembelihle High and Newell High, he had attended by "donating money and monitoring".
Rhodes University spokesman Zamuxolo Matiwana said Mali received the award in recognition of his personal and professional achievements that had enhanced the reputation of the university. "Lincoln Mali is highly deserving of a Distinguished Old Rhodian Award as he explicitly demonstrates how to be a true leader and live up to the slogan 'Where leaders learn'."
In his acceptance speech, Mali said: "I pledge to continue my work of grooming and developing young leaders throughout our beloved continent. To give true meaning to this award - to be deserving of being counted among its recipients and to continue this important work - I need to assume the difficult task of role modelling.
"In accepting this difficult task, I have to embrace the harsh reality that leadership is not only what I do but also fundamentally who I am as a person. To be an effective and influential role model, I have to always ensure that there is alignment between who I am and what I do as a leader."
Story by: Mkhululi Ndamase.
Source: Herald (Morning Final).
Source: HERALD (Morning Final)
Please help us to raise funds so that we can give all our students a chance to access online teaching and learning. Covid-19 has disrupted our students' education. Don't let the digital divide put their future at risk. Visit www.ru.ac.za/rucoronavirusgateway to donate