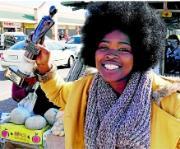 Rhodes University Statistics lecturer, Ms Thina Maqubela was recently awarded the Social Entrepreneur award at the Port Elizabeth Business Women's Association's (BWA) annual Regional Achievers Awards.
She was honoured for her work at the Ubuntu Education Foundation, particularly for the launch of a new programme, which assists underprivileged Grade 12 learners with all aspects regarding the transition from high school to university.
She joined the Statistics Department at the beginning of the year as a lecturer through the Rhodes Accelerated Development Programme. Distance and other commitments, such as lecturing and her own PhD studies, don't allow her to be as involved as she would like to, but she still volunteers for the Foundation.
She came across the Ubuntu Education Foundation in Grade 12 when she was looking for funding. She is naturally good with numbers and her teachers insisted that she take Maths and Science. However, despite excelling in the classroom, she didn't have anyone to assist her with finding bursaries and applying to university.
Having herself been a beneficiary of the Ubuntu scholarship programme, she understands fully the confusion when it comes to applying for funding and university applications as the students she mentors.
"There was no one really to guide me and I heard that they were offering bursaries so I just knocked on their doors and said hey here I am, I think I'm excellent, can you take me for a scholarship and I was fortunate enough to be fully funded by them throughout my education at UCT and partially for my Masters," she says.
After obtaining her undergraduate degree at UCT, she interned at Ubuntu in 2011 before leaving for West Virginia University to complete her Masters in Statistics. In May 2013 she returned to Ubuntu to work full-time. It was during these six months that she piloted a new programme called Future Leaders Programme.
"Most of the students we worked with were first generation students so in most cases in their families there hasn't been anyone who has gone to university, so it's more of a challenge for them to settle in and it's usually small things that hinder their success at university," she explains.
They set out to achieve two goals with the new programme: they wanted a 65% pass rate among their matriculants and they wanted to place 50% of their students in universities. They achieved both and achieved a 93% pass rate among their matriculants which is much higher than the Eastern Cape pass rates.
Her excellent achievements did not go unnoticed. She was nominated for the award and had to submit a portfolio documenting what one has achieved.
"Due to the type of work that NGO's do, the focus is always on the client. It's rare for you to sit down and acknowledge your successes in the job. The nomination gave me the opportunity to reflect on the work that I did in the previous year. So it forced me to sit down and I wrote a 50 page portfolio reflecting on the work that I did and I enjoyed it," she says.
She was the youngest recipient and is very humble about her achievement: "It did come as a surprise because I was competing against 90 nominees who were all women of high calibre so it could have been anyone in terms of the top six."
She had planned to continue working at the Foundation and her decision to accept a lectureship at Rhodes was not an easy decision. Her passion for education is evident in her work and her achievements and she is currently completing her PhD in Statistics Education.
She was part of an academic programme while in high school. "What is so unique about the Ubuntu Education Foundation's programme is that they don't only assist students with their academics but also their health and household stability. The programme is holistic which allows students to truly excel at university," she says.
"We also focus on the social aspect of their lives, as a first generation student sometimes there's lots of pressures that come from family wanting you to finish your degree in time, wanting you to study this instead of that, bridging the gap between them and their families," she says.
There are currently three students studying at Rhodes who have come through the Ubuntu Education Foundation who she takes special care of.
"I meet with them often, they come here if they need help, I hold dinners at my place just because they are far from home so they can have something else other than res food at times and just to know that there's someone they can knock on their door and I think it has been very helpful for them to have such a person. They are spoilt," she says affectionately.
However Ms Maqubela does not only mentor students at Rhodes, it is pure luck that she is based at the institution where they are studying. She has a host of students at other institutions whom she assists. She says that technology has made communicating so much easier and she has Skype sessions or students Whatsapp her for assistance.
She is grateful for the opportunities she has been afforded through the Foundation and is the President of the Alumni Association that was started this year.
"It's a platform where past recipients of this scholarship programme are connecting and networking and helping each other to find better opportunities out there. We help each other navigate the pathway of success. It's great in terms of sustaining a community of people that would like to give back. And would like to recognise the help that they have got from the organisation," she says.
By Catherine Deiner
Photo by Deon Van der Walt, Herald
Ms Thina Maqubela takes her statue to her mother's fruit and vegetable stand in Motherwell.
Source: Communications and Marketing
Please help us to raise funds so that we can give all our students a chance to access online teaching and learning. Covid-19 has disrupted our students' education. Don't let the digital divide put their future at risk. Visit www.ru.ac.za/rucoronavirusgateway to donate