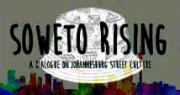 Joburg is a popular site for documentary film making. The city is bursting with new movements, trendy spots and interesting people. But two students from Rhodes University, Noxolo Mafu and Lilian Magari, decided to shoot the city from a new angle, producing what is now the acclaimed documentary Soweto Rising.

The documentary, which has only been screened publicly at Rhodes, found its way on to social media and blogs like We Are Awesome, and Between 10 and 5 picked it up and shared it with their viewers, to rave reviews.

"Soweto Rising attempts to give insight into how young, black Sowetans are defying the city's former one-dimensional narrative in order to take ownership of their space and be proud," says Magari.

"We wanted to show how street culture can be used to illuminate the shifting identities of black people."

Mafu and Magari worked in unique circumstances, with only two weeks to film, and with no access to a permanent base or studio.

Despite the odds, these budding film makers have created a piece of work that even has industry veterans giving it a thumbs up.

An intricate puzzle

While they initially intended to focus on izikhotane, the duo decided to enlarge the focus once they realised this was just one piece ofan intricate puzzle. The documentary features a range of voices from within the Joburg street culture scene. These include Mkay Frash (Boyz n Bucks, Hunting for Kicks), youth culture specialist Jess Jorgensen, izikhotane member Don Dada as well as Thesis concept store co-founder Wandile Zondo.

Mafu and Magari moved discussions out of the realm of city planning, social analysis and trends to a distinctively youthful space, which mirrored their age, interests and those of their viewers. Despite not being from Joburg, they were able to capture it's heartbeat and, in many ways, the "outsider's eye" serves them in this respect.

"We're young and we have a lot to learn, and I'm excited to take this further. But it's exciting to know people are receptive to what we're trying to do. It's time we push South Africa and Africa as a place that is interesting and positive, and worthy of investment," says Mafu.

With innovative cinematography, a bumping local soundtrack and a strong sense of character, it is a must-see. If this is what the two could produce at university, it will be exciting to see what they do in the industry.
Article by: Binwe Adebayo
Article source: City Press
Source: City Press
Please help us to raise funds so that we can give all our students a chance to access online teaching and learning. Covid-19 has disrupted our students' education. Don't let the digital divide put their future at risk. Visit www.ru.ac.za/rucoronavirusgateway to donate