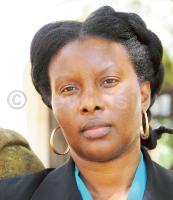 "My love for Grahamstown shines through my artwork," these are the words of Dr Amanda Tumusiime a visiting African Humanities Post-Doctorate fellow from Uganda speaking at the art exhibition entitled Impressions of Grahamstown.
Dr Tumusiime, took time out of each of the 54 days she spent in Grahamstown to paint. In her paintings, she depicted a small part of Grahamstown – one oil-on-canvas painting for each day of her visit.
While she came to Grahamstown first and foremost to finish writing her post-doctorate book on the relationship between art and gender, she found that the Grahamstown setting was too artistically appealing to ignore
Most pertinent about the artwork are the vibrant colours that capture Grahamstown's changing weather and tranquil sunsets. In no time at all, her pieces were claimed by attenders of the exhibition, who expressed awe at her talent.
The artwork on display was made available to those who attended, with her aim being that her works be enjoyed and, through them, her presence remembered. The pieces were funded by her in her personal capacity. The act of giving her pieces away was one of significant gratitude.
She shared that the painting process aided her in her writing and encouraging the creative process to flow better. As a member of the African Humanities post-doctorate fellowhip, she became a well-known and appreciated individual in the Humanities faculty, which was well reflected by those who attended to bid her farewell.
According to the artist and writer, the prospect of going home is a happy one. "I am most excited to get back to my family at home," she said. The exhibition marked the end of her stay in Grahamstown after the completion of her post-doctorate writing.
The African Humanities Program seeks to revive the humanities in Africa through mutually beneficial fellowships in Ghana, Nigeria, South Africa, Tanzania and Uganda. The program works in partnership with the Carnegie Corporation of New York, to whom special thanks were expressed at the exhibition.
The programme offers African scholars funding to complete post-doctoral writing and research and writing and to develop as individuals in their own capacities and it was through this programme that Dr Tumusiime was afforded this opportunity.
By Abi Butcher
Source: Communications
Please help us to raise funds so that we can give all our students a chance to access online teaching and learning. Covid-19 has disrupted our students' education. Don't let the digital divide put their future at risk. Visit www.ru.ac.za/rucoronavirusgateway to donate