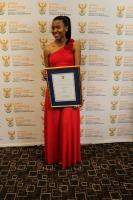 Minister of Science and Technology, Ms Naledi Pandor presented the prestigious 2014 Women in Science TATA Scholarship Award to Grace Ngubeni, for her Masters of Science (MSc) research in Physical Chemistry.
Ngubeni said it was an honour to see Minister Pandor and listen to her welcome address and the future plans for the department. "She really has a heart for empowering women and giving recognition where its due. Being in the presence of such influential women was incredible."
"I was specifically inspired by Professor Glenda Gray, before she came on stage, her accolades were read and we all expected a very old woman, however, she is still so young and has accomplished so much already. I was thoroughly inspired and encouraged to pursue my craft to the best of my ability."
Ngubeni is researching the synthesis and characterisation of novel binuclear etallophthalocyanine molecules for electrocatalysis. The initial part of the research entails synthesising binuclear compounds and then using various spectroscopic and analytical methods to confirm the successful synthesis of these compounds.
In order to achieve this, she needs to purchase various chemicals and some equipment that may not be available in the lab. If additional equipment is unavailable in the department, the equipment is outsourced which can involve additional costs.
The scholarship provides a means for covering her tuition fees and any additional equipment she may require for her research. In addition, the scholarship will allow her to spend a few months in an international research facility, helping to expand her experience and giving her external exposure to her chosen field.
"I think my research has the potential to provide novel compounds and improve existing methods that are based on providing environmental solutions," she said, noting that these compounds will be used to fabricate an electrochemical sensor for the detection of chlorophenols (pollutants) and to test if these compounds can be used as photosensitizers in organic photovoltaic cells.
"Through this research project, we aim to solve some of the environmental difficulties through eliminating toxins produced in industry and agriculture and to help produce energy in a less-invasive/harmful manner to the environment. I also think my research can contribute to unexplored techniques that I am currently working on, which I hope will encourage other researchers to explore in their unique research."
She described attending the ceremony as humbling and exciting. "There were so many great women to meet during the ceremony and it was very enlightening to interact with fellow scientists. Hearing about their research and what they are passionate about in and out of their field of expertise was remarkable."
Ngubeni plans to continue research in the field of science through discovering new avenues and improving existing methods. "God willing, I aspire to use my knowledge and skills as a professional by giving back to the community and hopefully inspire more young ladies to pursue a career in science. I think that the Department of Science and Technology through such awards makes it possible for young women to create awareness of other professions in the science field."
The Tata Scholarships Programme is funded by Tata Africa Holdings. It finances students university fees, accommodation and expenditure on books and research work of selected recipients. The programme has benefited 137 students, from disciplines such as engineering, mining, nursing, pharmacy, law, architecture and many more.
Scholarships worth R8 million have so far been awarded. Over the past five years, these scholarships have become the most sought-after postgraduate educational aid in South Africa.
By Sarah-Jane Bradfield
Photo: Supplied
Source: Communications and Marketing
Please help us to raise funds so that we can give all our students a chance to access online teaching and learning. Covid-19 has disrupted our students' education. Don't let the digital divide put their future at risk. Visit www.ru.ac.za/rucoronavirusgateway to donate