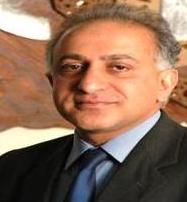 Speaker after speaker lauded outgoing Rhodes University Vice-Chancellor, Dr Saleem Badat, for leaving Grahamstown on good terms and in good humour.
The glowing speeches were part of a farewell party held in Badat's honour at the Great Field on Saturday 24 May.
Badat would be remembered for his role in stimulating debate around the educational sphere and setting the agenda on transformation at Rhodes University, said Deputy Vice-Chancellor (Research), Dr Peter Clayton. '
Clayton, who spoke on behalf of the university's senior management, said that Badat's dedication to the education sector has made Rhodes one of the most recognised Universities in the world. Clayton added that under Badat's leadership, the university increased its intake of black students, and produces more graduates than ever.
The Chair of the Deans' Forum and Dean of Centre for Higher Education Research, Teaching and Learning (CHERTL), Professor Chrissie Boughey, continued the warm memories that everyone had of the Vice-Chancellor.
"I would like to thank Dr Badat for protecting the academic project which makes the University what it is today," she said, "and for going out and about attending to issues that matter to the university."
Bradley Bense, president of the Students' Representative Council (SRC) said the VC was not just dedicated to Rhodes but to the Grahamstown community and the Eastern Cape as whole.
"Dr Badat's commitment to the education sector has been outstanding," Bense said, "and for that we would like to thank him and his wife."
Badat said he was humbled by the reception, and grateful for having had the chance to lead Rhodes's achievements.
"The work is not yet complete," he said, "it still needs to be taken forward."
He received a long standing ovation from the hundreds of members of staff, students and members of the Grahamstown community.
Badat shook hands with students who had turned out in great numbers to see him off; some intent on the free food (and cold drinks), as well as the live brass band, but many also intent on posing for a keepsake picture with him.
Badat's tenure officially ends on 30 June. He will take annual leave in July and start his new job at the Mellon Foundation in New York on 1 August.
He joined Rhodes in 2006 and will have been at the University just short of eight years when he leaves.
By Mncedi Eddie Magade
Source: Grocott's Mail
Source: Grocott's Mail
Please help us to raise funds so that we can give all our students a chance to access online teaching and learning. Covid-19 has disrupted our students' education. Don't let the digital divide put their future at risk. Visit www.ru.ac.za/rucoronavirusgateway to donate