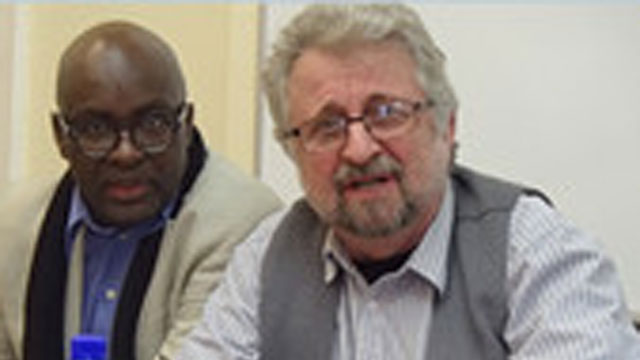 Professor Achille Mbembe from the Wits Institute for Social and Economic Research (WISER) discussed the most crucial questions that have not been resolved in South Africa in the past 20 years, pertaining the future of the country. He argued that South Africa is still living in a moment of irresolution.
He was speaking at Rhodes University recently and his public lecture entitled: "Non-racialism and the New Native Questions in South Africa" hosted by the Unit for the Humanities at Rhodes University (UHURU).
Addressing the audience, he said he had developed a mode of argument to problematise something that could be called a 'South African moment', by raising a few pointers that are merely a set of partial observations and incomplete reflections.
Why are people angry?
Prof Mbembe explained that in the new South Africa, citizens are expressing their anger in new ways or peaceful demonstrations, but sometimes resort to violent acts due to their unheard cries.
"Everything has been thoroughly depoliticised and our problems have been made technical, and bureaucratic," he said. "Our problems are not understood as political, we need to bring back some of these issues".
South African modes of accumulation
One of the most crucial questions South Africa still needs to seek answers to, he argued, is that concerning the modes of accumulation of wealth. Prof Mbembe argued that black people in government develop policies that are going against the poor black community because of their objective interests.
He stated that in the past, the country relied heavily on racial wages. Now there is a crystallization of the margins of society as a consequence of the expanding black middle class.
This leaves working class people jobless and their screams ignored.
What role does Governance play in all this?
According to Prof Mbembe, the ANC feeds on the internal crisis it generates.
"The political formation has developed a capacity to reproduce itself through its own internal crisis," he said, "and this crisis perpetuates itself just like capitalism.
Drawing from Franz Fanon's chapter, "Pitfalls of National Consciousness" In his Wretched of the Earth, Prof Mbembe argued that South Africa has become what Fanon had imagined 60 years ago. He said that the democratisation of tenders is a point of entry into corruption.
"We have moved from a society of control under apartheid to a society of consumption, today" he said.
Consumption runs on debts
Prof Mbembe also explained that South Africa is running an economy where it makes money out of debt.
"Consumer indebtedness in SA has grown from more than R350 billion in 2002 to R680 billion in 2006 with interest rate for short-terms loans of 36% per annum," he said. "By 2008 the figure had escalated to 1.1 trillion rands," he added.
He made an example of student graduates in the United States who incur student debts even before they start working.
Arts and culture
"The process of the ruling elite has attempted to take and domesticate its population by establishing an official distinctions between the accepted and inacceptable, what we can see and what we cannot, what can be represented and what cannot be," he said.
He argued that ordinary citizens are repressed by the authority in the name of tradition and he condemned this to be a "generational crisis".
He highlighted a recent incident, The Spear, a controversial painting which depicts President Jacob Zuma with his genitals exposed was contrasted to the re-emergence of an official elite culture, a phenomenon that has always been present in South Africa before apartheid.
"Prof Mbembe is one of the few intellectuals in South Africa who is deeply familiar with modern social theory and philosophy, particularly with what is termed 'continental philosophy'. He was educated in France and publishes regularly in that country," said the Director of UHURU, Prof Michael Neocosmos.
"Moreover he is precisely concerned with Africa, not as the place of 'the other', but as our own place with all its problems and all its extraordinary history and people. Who better to begin the new term under the auspices of UHURU?," he added.
Professor Achille Mbembe, born in Cameroon, obtained his Ph.D in History at
the Sorbonne in Paris. He is a research professor in history and politics at WISER.
Photo and story by Sanele Ntshingana
Photo: Professors Achille Mbembe and Michael Neocosmos
Source: Communications
Please help us to raise funds so that we can give all our students a chance to access online teaching and learning. Covid-19 has disrupted our students' education. Don't let the digital divide put their future at risk. Visit www.ru.ac.za/rucoronavirusgateway to donate