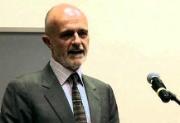 Visiting Law Professor and Advocate, Wim Trengove SC will deliver a public lecture on Monday (22 September) entitled "Should South Africa police the international crimes of others?" at 17h30, Moot Room, Law Faculty.
The lecture will focus on his recent involvement in the topical and controversial matter. In this matter, National Commissioner of the South African Police Service v Southern African Human Rights Litigation Centre, it was held that the South African Police Service (SAPS) is obliged to investigate serious complaints of crimes against humanity committed beyond South African borders, and more specifically in Zimbabwe.
Local Palestinian supporters have also taken SAPS to court recently to compel it to arrest visiting Israeli dignitaries on the basis that they had been complicit in international crimes committed in Gaza and the West Bank.
Described by the Guardian newspaper as a "law unto himself," Advocate Trengove is widely regarded as one of the leading legal practitioners in South Africa. He has been at the forefront in the South African legal system's changes.
In 1995 he argued successfully for the abolition of the death penalty in South Africa, in the landmark Constitutional Court judgment of S v Makwanyane.
In 2008, he argued in State v Shaik, in which the High Court made (upheld by the Supreme Court of Appeal and Constitutional Court) confiscation orders against Mr Shaik and his companies in terms of the Prevention of Organised Crime Act.
He also argued for the National Director of Public Prosecutions (NDPP) in NDPP v Zuma 2009, in which the Supreme Court of Appeal (SCA) dismissed the contention that, in terms of the Constitution, Mr Zuma was entitled to be afforded a hearing before the NDPP decided to institute criminal proceedings against him.
Advocate Trengove has appeared in recent high profile matters: the 2013 case of Bosasa Operation v Basson about the protection of the confidential sources of the media when they report on matters of public interest. Recently these have includedthe 2014 case of Mandag Centre for Investigative Journalism v Minister of Public Works where the court ordered the Minister and the Department of Public Works to make proper disclosure of their documents relating to the Nkandla project; and the most recent case of Julius Malema and the Economic Freedom Fighters v Chair of the NCOP.
Advocate Trengove has held top positions in the Bar, including Chairperson of the General Council of the Bar of South Africa. He was also a member of the Judicial Service Commission and has served as an acting judge on several occasions.
Source: Comms and Law Faculty
Please help us to raise funds so that we can give all our students a chance to access online teaching and learning. Covid-19 has disrupted our students' education. Don't let the digital divide put their future at risk. Visit www.ru.ac.za/rucoronavirusgateway to donate